An eCommerce business can't function correctly without email. After all, while you may use other communication methods (such as SMS) to speak with your customers, it's email that you will use most frequently. Indeed, you'll use emails for just about everything, including sending transactional information, updating your customers about your business developments, providing offers and discounts, and overall creating a better customer experience.
However, while those benefits should come your way, they're not guaranteed. For eCommerce business emails to be successful, they have to be good emails. Poorly-constructed or limited emails will be of minimal benefit to your WooCommerce store.
You'll likely have found the option within WooCommerce to send customized emails to your customers, yet while this option provides a good starting point, it is fairly limited in what it can do. To turbocharge your emails and bring more success your way, you may consider using a plugin that will allow you to create custom WooCommerce emails.
In this post, we'll run through two easy methods for customizing your WooCommerce emails – via the platform's core functionality and with a plugin. In addition, we'll introduce you to a powerful automatic notification plugin that can make fine-tuning your WooCommerce emails a breeze.
Why should you customize your WooCommerce emails?
Customizing your WooCommerce emails can benefit both you as the store owner and your customers. In an age when personalization is key, it's an essential, not to mention straightforward, step that can make a powerful impact.
Some of the key benefits of customizing your WooCommerce emails include:
Build brand awareness and trust
Business owners should endeavor to incorporate their overall business branding into all their internal and external materials, including their emails. Customization allows you to send emails that use your logos, colors, fonts, and other visual assets that can help to strengthen your brand awareness.
General emails come from businesses. Customized emails come from your business, and that can help to develop your relationship with your customers and encourage repeat businesses and referrals.
Enhance the customer experience
It's in a company's best interest to deliver an exceptional customer experience. The transactional emails you send to a customer after they have placed an order will go a long way to ensuring that they have a great experience from beginning to end.
In these emails, you can provide your customers with need-to-know information such as order updates, delivery timescales, contact information, and FAQs. It's a way to keep your customers in the loop, which they will appreciate.
Encourage repeat business
Repeat customers can provide the foundation for long-term success. By sending carefully timed, well-constructed automatic emails, you can tell your customers about offers, discounts, and coupon codes that will encourage them to make additional purchases at your WooCommerce store. As such, investing in your email communication can help your store to boost sales and build more revenue.
How do you send emails with WooCommerce?
The popularity of WooCommerce is largely down to its range of powerful features, and the default WooCommerce email functionality is no exception. From within the plugin, users can send a variety of email types both to their customers and to the store admin, which are automatically sent following a trigger – for example, a change in the customer's order status.
What types of emails can you send with WooCommerce?
You can automatically send both administrative emails and transactional emails from within WooCommerce.
For transactional emails, you can send the following types of emails:
New order: send confirmation once an order is made, including any important order details.
Canceled order: an order may be canceled by the customer or by the admin.
Order on hold: this may occur when a payment must be verified before progressing.
Failed order: for example, when payment is declined or delivery information is incomplete.
Processing order: these emails acknowledge that the order is in progress.
Completed order: these emails are sent automatically once the admin lists an order as 'complete' (i.e., delivered).
Refunded order: indicates that the value of the order has been refunded to the customer.
Payment authentication requested: sent when a customer needs to verify their payment methods.
Pre-order payment action needed: sent when a customer must take additional steps for an order to progress.
Failed subscription renewal: this usually happens due to out of date credit card details.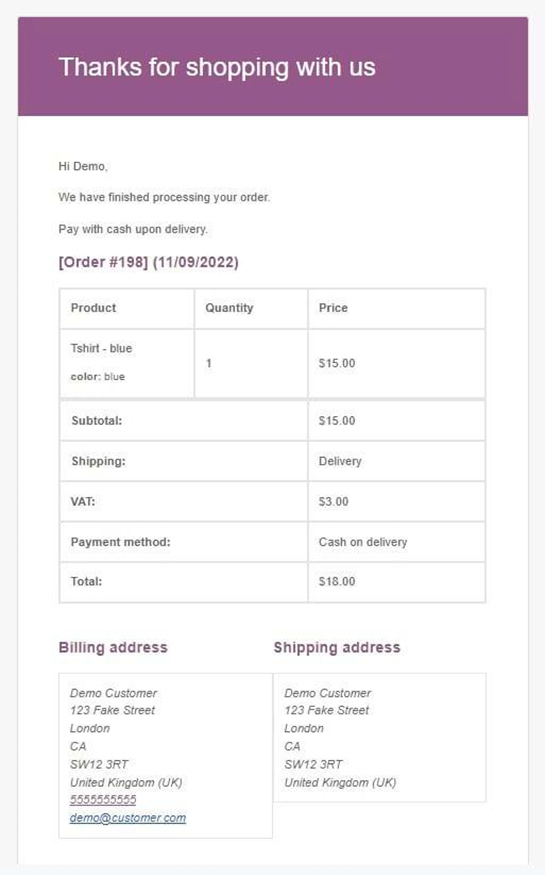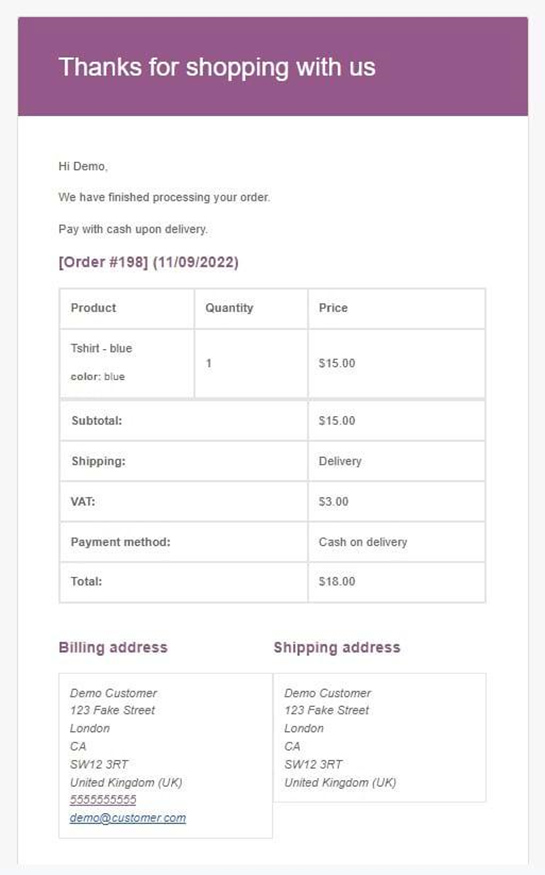 These WooCommerce order emails can be sent to both the customer and the admin at a predetermined email address. If you don't want to send or receive certain types of emails, then you can configure the settings from within the dashboard. For more information on WooCommerce transactional emails, check out our complete guide.
For administrative emails, you can send the following types of email:
New account creation.
Customer note.
Reset password requests.
There is no automatic marketing email support from within WooCommerce by default, but you can add marketing information to the existing WooCommerce email templates in order to send out details of promotions to your customers, as we'll demonstrate a bit later.
Can you send custom emails with WooCommerce?
WooCommerce is a powerful plugin, but it's not perfect. While you can send a range of different emails from within the plugin, as we've outlined above, you won't have the option to add your own custom email templates using WooCommerce's core feature set.
Thankfully, there is another option. You can include this functionality within WooCommerce by utilizing an additional plugin, which will allow you to send automatic custom emails whenever you require during (or after) your order fulfillment process. We'll run through exactly how to do this later on in this guide.
How do you customize emails in WooCommerce?
WooCommerce store owners have a couple of options when it comes to customizing their emails to their customers and staff. The first is to use WooCommerce's core functionality to make adjustments to your existing email templates. The second is to use an additional plugin that has been designed specifically with the goal of sending customizable emails in mind. We'll take a look at both of these methods in greater detail below.
Method 1: Default WooCommerce
WooCommerce includes a variety of tools that enable you to customize your automated emails by default. These tools are easy to use and easily accessible, and can be found within the WordPress dashboard.
To get started with adjusting your WooCommerce emails, simply go to WooCommerce > Settings, and then click on the 'Emails' button. This will bring up a dashboard with the full list of email types that can be sent automatically from WooCommerce. From here, you can make a few different types of adjustments to your automated emails.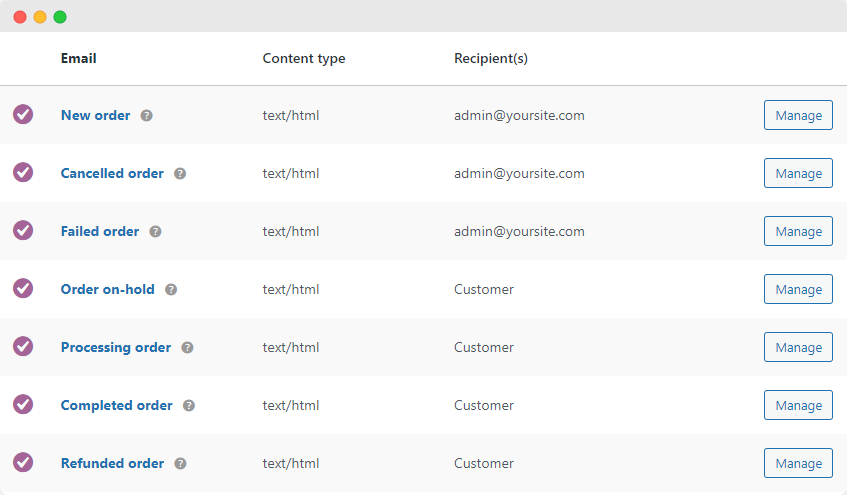 Individual email content
You can make adjustments to the content of your WooCommerce emails from within the settings page. To get started, just click the specific email that you want to change. Once the email is open, you can change or add the following:
The subject of the email.
The email heading text.
Add any text that you want to include at the end of the email.
Choose how your email will be displayed: as plain text, HTML, or a dynamic approach that automatically selects the right one for the recipient's email provider.
For internal emails, you can choose which email address receives automatic emails (for example, when an order is made).
Global email content and appearance
Also from the settings page, you can make global adjustments to the visual presentation of your automated emails. For example, from within the settings, you can:
Add a header image.
Change the text and background color of your emails.
Add footer text to all of your WooCommerce emails.
Adjusting the footer text of your emails is a good way to add information on specific promotions that you are running to encourage new and repeat customers alike to make purchases on your store. That said, be wary that you can only change the footer text of your emails globally, so any information you add will be appended to all of your transactional and administrative emails.
Add product-specific information
Default WooCommerce also enables you to add specific information to transactional emails based on the products your customers have purchased through its Purchase Notes feature. This is especially useful for stores running email marketing campaigns for specific lines of products, as you can include promotional information, coupon codes, and other marketing information about products related to what your customer has already purchased, helping to drive additional sales.
To add a purchase note for a specific product, head to 'Products' and then click 'Edit' under the product you'll be adding notes to. From there, find 'Product Data' and click 'Advanced.' Here, you can add custom text to the 'Purchase Note' section, which will be included in any transactional emails sent to customers who purchase the product in question.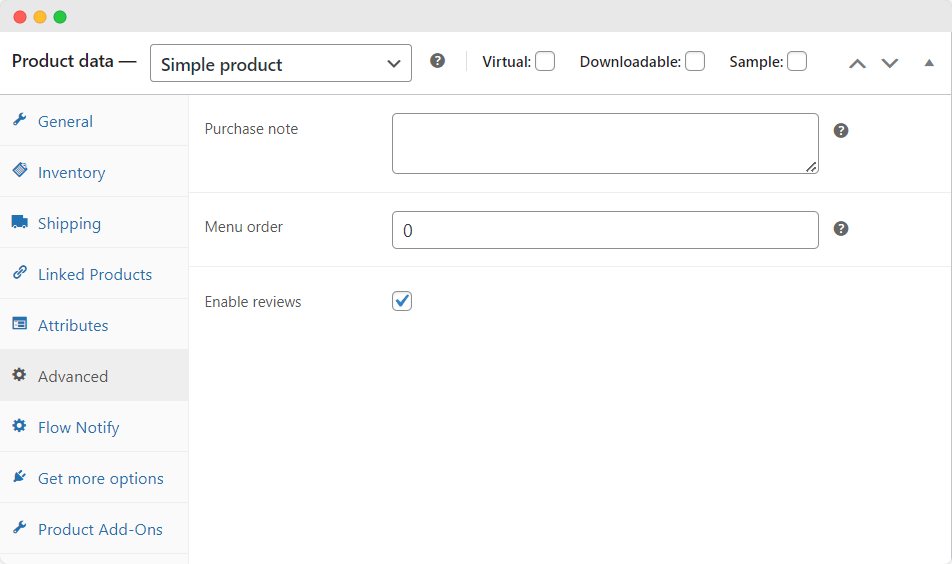 Customizing your email templates with code
The above tools will get you started with customizing your automated WooCommerce emails, but they're fairly limited. To take things further from within WooCommerce, you'll need to customize the PHP files of your email templates. Each transactional email consists of a combination of templates, which enables greater control over the customization of your WooCommerce emails, but also makes this a much more complex process.
For example, to only edit the headers or footers for your emails, you can edit the email-header.php or email-footer.php files respectively. To edit a specific email template, like the Processing order email, you would edit the customer-processing-order.php file.
Customizing the code of your email templates gives you much more flexibility when it comes to the appearance and content of your emails, as there are almost endless customization options available if you have the relevant coding knowledge. To get started, you can check out the template structure documentation for WooCommerce emails.
Limitations of customizing emails with WooCommerce
The default WooCommerce method is good, but it's not perfect. There are limitations.
For instance, to really make the most of the customization options, including straightforward changes like adjusting the body text of your emails, you'll need to have PHP coding experience. If you don't, your options will be severely reduced.
There's no option to add your own custom emails via WooCommerce, either. If there are other emails you want to send – for example, if you have a more complex order fulfillment process that would benefit from providing additional updates to customers, or you want to send marketing emails based on set triggers – then you'll need a plugin.
Method 2: Using a plugin
Looking for more control over the customization of your WooCommerce emails, without having to understand how to code? Then you'll need a plugin.
Happily, there's Flow Notify, a powerful plugin that can help WooCommerce users easily customize their emails. Let's dive into some of the key features that make Flow Notify the best WooCommerce plugin available for customizing your eCommerce store's automated emails:
Unlimited custom emails
With Flow Notify, you can create as many custom emails as you need, which allows you to send unlimited notifications to your customers or staff. This feature is available for email, SMS, and WhatsApp, meaning you can contact your customers via their preferred method and make the experience of shopping at your online store even better.
You can even personalize these interactions by incorporating dynamic data such as order status, shipping method, and customer name using WooCommerce data fields.
Trigger automated emails at a time that suits your business
Flow Notify puts you in charge of your fulfillment workflow. Instead of only using the default order statuses from WooCommerce, you can create your own custom order statuses, then use them to trigger custom emails.
As well as order status changes, you can also send automatic emails based on triggers like product review submissions, new account creations, and more.
Better yet, automated, scheduled, and instant messages are all supported, allowing you to easily get in touch with your customers at the perfect time.
Support for different types of emails
WooCommerce only allows you to send administrative or transactional emails, which is fairly limiting. Flow Notify frees you from these limitations by giving you the framework to build and send custom notifications at any stage during (or after) the fulfillment process. This is perfect for marketing campaigns, promotions, and much more.
Flow Notify also offers powerful stock notification functionality, which enables you to tell your customers about products that are back in stock or on sale, and let your fulfillment team know when a product has sold out so they can order more stock.
Available for just $49/year, Flow Notify provides competitive pricing with full functionality, including unlimited email notifications. And if you find the plugin isn't the perfect fit for your store, you can get your money back within 30 days, no questions asked.
Tutorial: How to customize your WooCommerce emails with Flow Notify
Customizing your email notifications in Flow Notify couldn't be more straightforward. Simply follow the below steps to create your own custom email notifications and adjust your email settings to take full control over your communication with your customers and staff.
Creating a new WooCommerce email notification
To create a new custom email notification in Flow Notify:
Download and install Flow Notify.
From within the WordPress dashboard, go to Flow Notify > Notifications and click 'add.'
Add the recipient (customer or admin staff) and a name. Then choose the type of notification you want to create (WhatsApp, SMS, or email).
Create your message with a combination of plain text and WooCommerce data fields.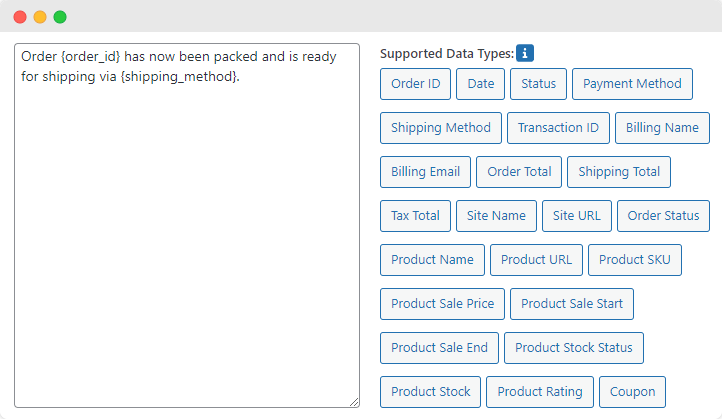 Save your changes.
Your new custom notification will now be sent whenever the trigger requirement is fulfilled.
Customizing your email settings
To customize your Flow Notify email settings:
From within your WordPress admin area, go to Flow Notify > Settings.
Here, you can configure specific email settings, including:

Setting a message timeframe (i.e., a period during which notifications will be sent to customers). This can help to ensure that your notifications aren't missed, improving your email open rates and ensuring your customers always receive key information about their orders.
Set the 'from' name and email address for your emails. This can add a more personal touch to your emails, and also help to ensure that they don't end up in your customers' spam or junk folders.
Change the appearance of your emails, for example, by adding a header image, changing the colors of the text and background, or changing the footer text of your emails.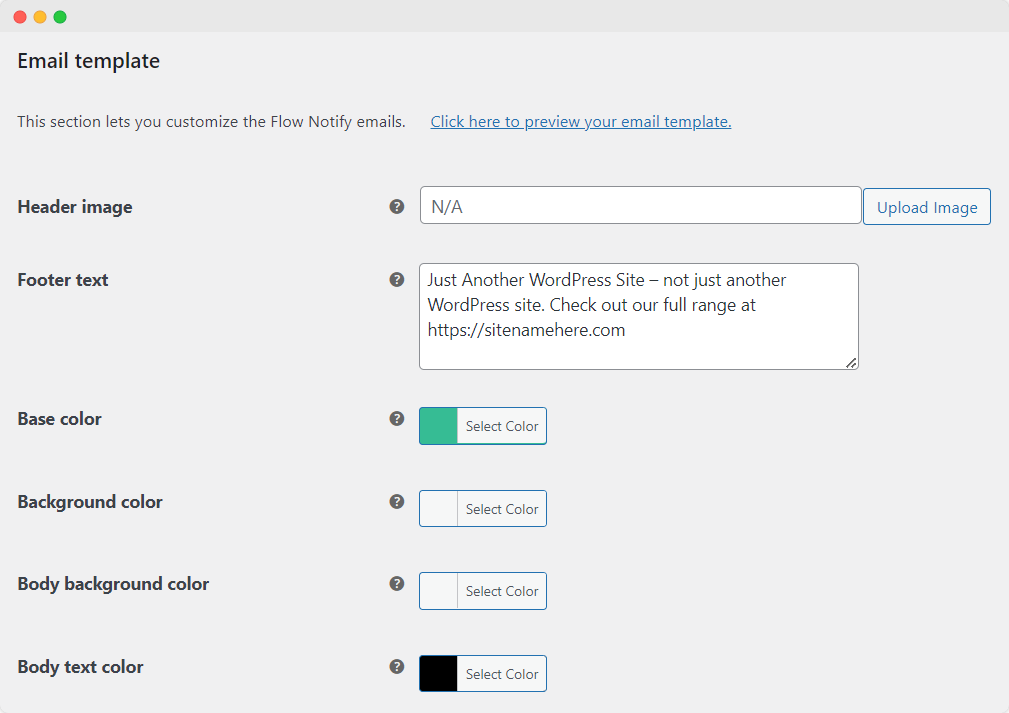 That's it – in just a few simple steps, Flow Notify enables you to create and customize new email notifications for your WooCommerce store, giving you full control over your communication with your customers and helping you to streamline your order fulfillment process.
Improve the customer experience and boost conversions with WooCommerce custom emails
Ultimately, customizing your WooCommerce emails is good for your business and good for your customers, who will have a much better experience purchasing from your online store.
You can customize your emails using the in-built WooCommerce functionality or using a plugin. Of the two options, using a plugin is the better choice, as it offers much more straightforward and flexible customization options without the need for any coding experience.
With Flow Notify, you can create and customize unlimited emails, SMS, and WhatsApp messages, and send them at the perfect point in your order fulfillment process through the creation of custom order statuses.
With built-in functionality for sending transactional, administrative, marketing, and stock notifications, Flow Notify can do it all. Best of all, you can give it a try for just $49/year, with a 30-day money-back guarantee.