Follow-up emails can do a world of good for your WooCommerce store, helping to increase conversions and improve your relationships with your customers. However, these benefits will only come your way if you utilize follow-up emails the correct way.
If you already use WooCommerce, then you may know that the popular eCommerce platform has some in-built functionality for sending follow-up emails to your customers. However, these functionalities are quite limited in what they can achieve, since there's only a small number of email types that you can send, and WooCommerce offers only a small amount of flexibility when it comes to customizing your emails.
To get the most from follow-up emails, you'll need to add a plugin. Happily, there are plenty available that can get the job done. In this post, we'll outline the many benefits of sending follow-up emails to your customers and run through some of the best plugins available to you.
What are follow-up emails?
Follow-up emails are email communications that you send to your customers after they have visited or shopped at your eCommerce store. There are various types of follow-up emails that you can send, which typically fall into two camps: pre-purchase emails and post-purchase emails.
Pre-purchase emails
Pre-purchase emails are designed to increase conversions among website visitors who have not yet made a purchase at your store. For example, you may send emails:
To welcome new customers when they create an account at your store.
When a customer has abandoned their shopping cart without completing the order, prompting them to complete the process.
To a customer when an item they have expressed an interest in comes back in stock and goes on sale.
Post-purchase emails
Post-purchase emails can inform your customers of updates, encourage your previous customers to make another purchase at your store, or leave feedback/reviews. For example, you may send emails:
To confirm that an order has been received. As well as an initial order confirmation email, you may send customers additional transactional emails when the status of their order updates. For example, when the item has been shipped.
For product reviews. A product review email will encourage your customers to leave feedback for an item.
To encourage your existing customers to make additional purchases at your store. For example, you may send product recommendations based on their earlier purchases or special promotional deals.
Why should you send follow-up emails?
Sending effective follow-up emails to customers (or potential customers) can bring a range of benefits not just to the store owner, but also to the customers themselves. Let's take a closer look at some of the reasons why you should start sending follow-up emails.
Boost conversions
Conversions are key to the success of your business. A well-timed, well-constructed follow-up email can be an effective way to encourage new and existing customers to complete an unprocessed order or to make another purchase.
Online stores can reduce their shopping cart abandonment rate by sending follow-up emails containing coupons or other promotions that encourage customers to complete the transaction.
A follow-up email can also be an effective way to advertise other products that your customer may be interested in, helping to boost cross-sells. For instance, you could send an email advertising your range of dolls' house furniture to a customer that has bought a dolls' house from your WooCommerce store.
Improve the customer experience
Follow-up emails provide an easy and effective way to develop your communication and relationships with your customers, helping them to feel valued and appreciated.
Customers want to know about the status of their orders – in fact, 83% of customers say they want regular communication regarding their order status. Follow-up transactional emails can ensure they're kept in the loop every step of the way.
If you want to go the extra mile to provide a great experience for your customers, personalized follow-up emails outlining product recommendations and special promotions will ensure that your customers feel valued by your brand.
Gather honest feedback
Gathering honest feedback from your customers is an essential part of improving your services, fixing common product problems, and enhancing customer satisfaction and, ultimately, sales.
A post-purchase follow-up email gives your customers a chance to share their thoughts about your products and/or your customer service. This not only helps you to improve your offering but also shows your customers that you value their feedback.
Save staff time
You'll have plenty of time to implement the feedback gathered from your customer surveys, as follow-up emails can also be a great help in freeing up staff time, which can then be spent on value-adding tasks.
Using automated emails to follow up with customers enables you to provide them with information on their order status, outline what's happening next, and run through FAQs, which provides a great experience for your customers while ensuring that your team spends as little time as possible addressing customer questions.
Best 5 plugins for sending follow-up emails in WooCommerce
You can send some types of follow-up emails from within WooCommerce, but the options are limited. To unleash the true power of follow-up emails, you'll need a dedicated plugin. Below, we'll run through the five best WooCommerce follow-up email plugins.
Flow Notify
Flow Notify is a powerful plugin that helps WooCommerce store owners create and send automatic notifications. It helps to streamline your order fulfillment workflow through the creation of unlimited custom notifications, which can be sent to both customers and staff.
Flow Notify sets itself apart in a sea of follow-up email plugins thanks to the sheer number of powerful features it includes:
Personalized communication
Flow Notify gets your customers' attention with dynamic, personalized messages. The plugin draws data from WooCommerce data fields to include information such as the order status, shipping method, and the customer's name. You can even pull in information on individual promotions and details about specific products.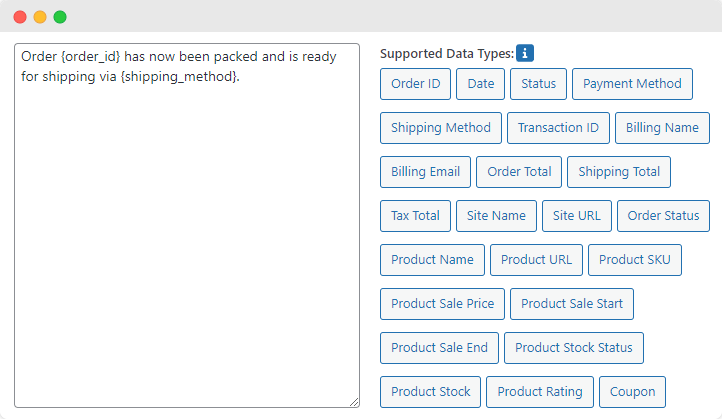 Powerful notification triggers
Flow Notify includes a whole host of automation triggers that prompt automatic email sending. For example, you can trigger notifications to be sent to customers or staff when a new account is created on your store's website, when an order status changes, when a new review is captured, and more.


Build your own fulfillment workflow
One major problem with WooCommerce's default notification functionality is that it is built on WooCommerce's small number of core order statuses, which limits exactly when you can send out follow-up emails.
With Flow Notify, on the other hand, you can create custom order statuses and use them to trigger automatic follow-up emails, putting you in control of your workflow.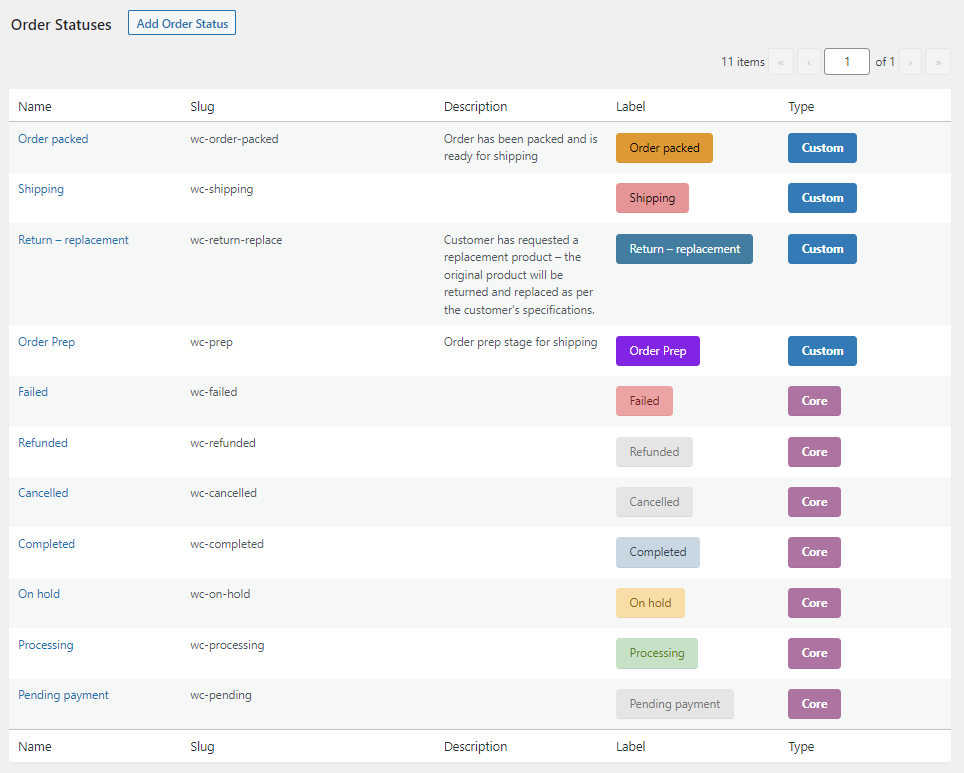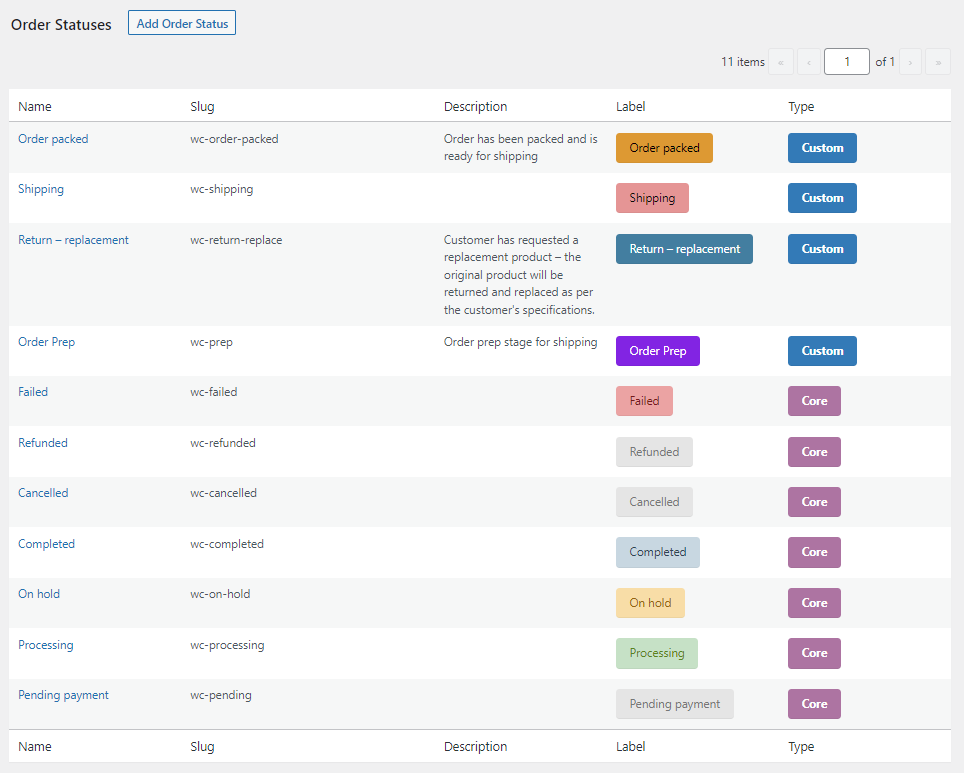 Support for multiple notification types
There's no shortage of different types of notifications you can send to your customers and staff with Flow Notify. Scheduled and instant messages enable you to create custom email marketing campaigns, and you can even set up opt-in notifications to let your customers know when products are back in stock or on sale. The plugin also allows you to send messages via SMS and WhatsApp, so you can communicate with your customers via their preferred method.
Flow Notify doesn't only come with a full feature set to help you take control of your WooCommerce store's order fulfillment process; it also comes with a very reasonable price tag. You can start using Flow Notify from $49 per year, with a 30-day money-back guarantee available.
ShopMagic
ShopMagic is a free plugin that allows you to automate your follow-up marketing emails and increase conversions. Some key features of the plugin include:
Create and automatically send customized emails, which will be triggered by changes in the order status. The plugin also supports custom order statuses, but it's not possible to create new order statuses from within the plugin directly.
Customize follow-up emails for different products, enabling store owners to create targeted cross-sells and boost sales.
Facilitate cart recovery through integration with a free add-on designed to combat cart abandonment.
Integrate with MailChimp to help build your email marketing list by gathering customer email addresses and adding them to MailChimp lists after checkout.
ShopMagic is the only free plugin on this list, and with that in mind, offers a reasonable feature set when it comes to sending follow-up emails. However, it can't match Flow Notify when it comes to taking granular control over exactly when you send your follow-up emails, as you won't be able to create your own custom order statuses with ShopMagic alone.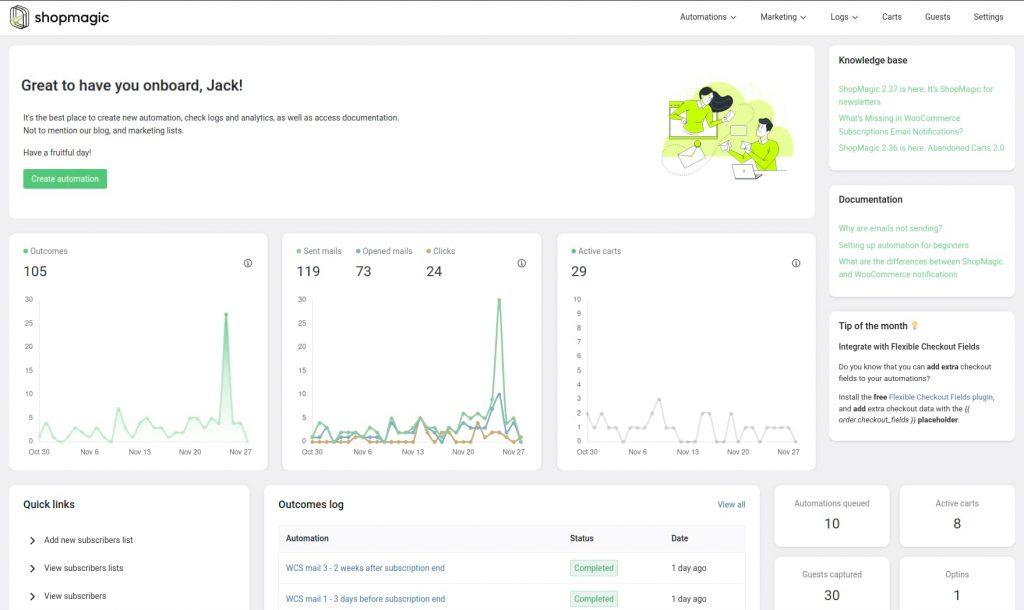 Retainful
Retainful is a plugin that helps to turn one-time customers into repeat customers through various different types of follow-up emails. Some of the key features of Retainful include:
Support for a wide range of email types, including thank you emails (with next-order coupons), welcome emails, transactional emails, and abandoned cart emails.
Built-in exit-intent and add-to-cart pop-ups that help to capture email addresses and reduce cart abandonment rate.
Drag-and-drop email editor that enables you to build customized follow-up emails with ease.
Email campaign builder that enables you to build different automation marketing paths based on customer purchase behavior.
A free version of Retainful is available with a more limited feature set. For example, you can only build one automation workflow, and only send up to 500 emails to up to 300 discrete contacts per month. To unlock the full functionality of the plugin, you'll need to opt for one of the paid plans, starting from $19 per month.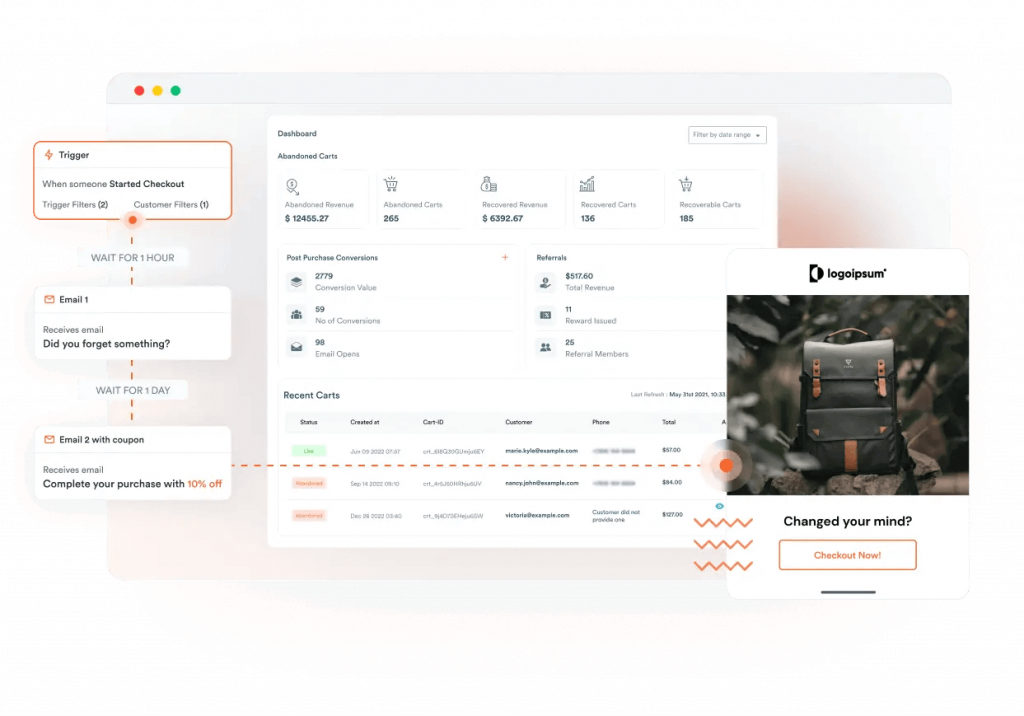 AutomateWoo
AutomateWoo is a follow-up email plugin designed to boost customer retention and increase conversions. Some of the key features of AutomateWoo include:
Support for a wide range of follow-up emails, including abandoned cart emails, post-purchase emails, and more.
A built-in rewards system for customers based on factors like how much they've spent and how many reviews they have left, designed to encourage repeat purchases.
Generate customized email campaigns that you can send to customers based on pre-defined customer behaviors, or at predetermined intervals.
AutomateWoo is one of the more expensive options when it comes to the best WooCommerce follow-up email plugins, with prices for a single-site license starting from $99 per year.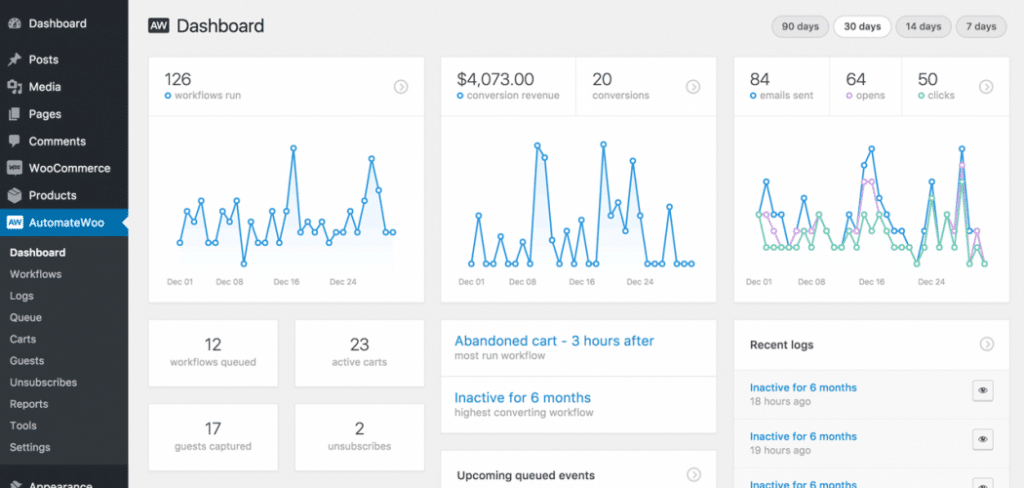 WooCommerce Recover Abandoned Cart
WooCommerce Recover Abandoned Cart is a plugin designed to do just as the name suggests: recover those customers who have left your site before completing the checkout process. Some of the key features of WooCommerce Recover Abandoned Cart include:
Send abandoned cart emails to both registered customers and guest users.
Automatically generate coupon codes to add to your cart recovery emails to encourage order completion.
Create and customize unlimited email templates and add them to scheduled email campaigns to aid cart recovery.
Prices for WooCommerce Recover Abandoned Cart start from $49 a year. When it comes to sending cart recovery emails, this plugin has a robust feature set, but if you want to send other types of follow-up emails, you'll need a more comprehensive solution.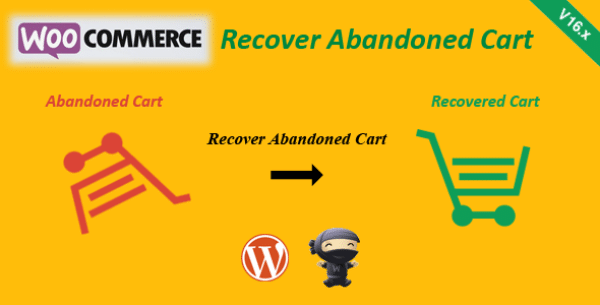 Boost conversions and improve your store's offering with follow-up emails
There's a lot to love about sending follow-up emails to your customers. It can increase your conversion rate, help you to gather important feedback about your products and services, and save your staff time, all the while increasing the quality of the customer experience at your WooCommerce store.
You'll need a plugin to send effective follow-up emails. While all the plugins we've mentioned on this list have plus points, Flow Notify stands out from the crowd because of the level of flexibility that it offers eCommerce store owners wishing to create and send valuable follow-up emails.
With Flow Notify, you can:
Benefit from unlimited personalized notifications that you can then send to your customers and staff.
Initiate the sending of your follow-up emails based on the trigger of your choice, such as a custom order status that you create within Flow Notify.
Create a range of follow-up notifications and send them via a variety of mediums, such as SMS, WhatsApp, or email.
If you're ready to unleash the power of follow-up emails, then give Flow Notify a try. The plugin is available from just $49 a year and comes with a 30-day money-back guarantee, so you can try the plugin risk-free.