Are you looking for a better way to keep your customers informed about the status of the orders they placed at your online store? Sending SMS order notifications straight from WooCommerce is a great way to let your customers know what's happening throughout the fulfillment process. And the best part? Setting things up actually requires very little work from you as the store owner!
In this article, we will take a look at the five best WooCommerce SMS notification plugins for 2023. We will explain why such a tool is an excellent idea for your store and show you just how easy it is to set up automatic SMS message notifications for your eCommerce store.
Why Should You Send SMS Messages From Your WooCommerce Store?
It's no secret that offering a good customer experience is one of the critical ways for eCommerce store owners to encourage repeat business. In fact, about 73% of customers rank a good experience as an essential factor when determining whether they should make a purchasing decision!
Sending SMS message notifications is a straightforward way to make your WooCommerce store order fulfillment process better for your visitors. There are many advantages to using such a system. For one, with custom WooCommerce SMS notifications, you can provide your customers with order status updates throughout the entire fulfillment process. This, in turn, can help you create a better delivery experience for them and save you the time you'd otherwise have to spend answering queries about delivery dates, order status, and such.
But SMS notifications have other applications too. You can use them as a marketing tool because they are a great way to share offers and promotions with your customers – encouraging repeat business. Notifications can also be used as a customer support tool, for example, by sharing a link that customers can follow if they want to make any changes to their delivery or if they have any issues with their items when they arrive.
The 5 Best WooCommerce SMS Notification Plugins
WooCommerce doesn't have built-in functionality to send SMS (text message) notifications to your customers. If you want to access this type of functionality, you will need to connect the popular eCommerce platform with a specialized plugin.
There are a few good options out there, so we thought we'd save you some time and make a few suggestions. Below, you will find what we believe are the top five picks for the best WooCommerce SMS notification plugins for 2023.
Flow Notify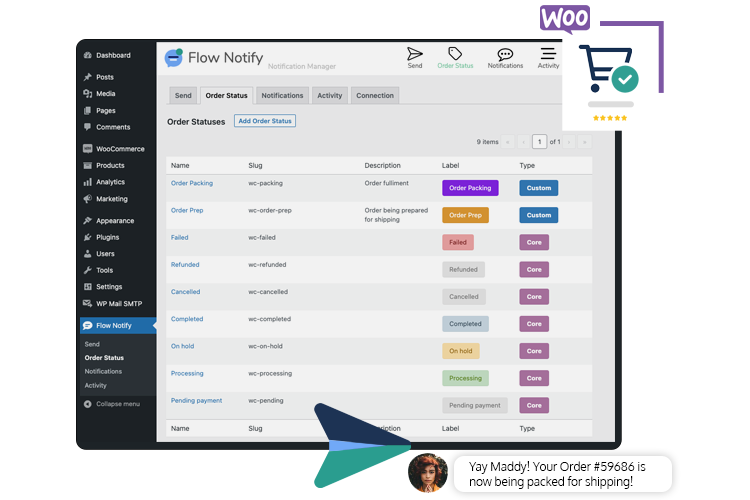 Flow Notify from BizSwoop is a powerful solution that provides its users support for more than just basic SMS alerts and notifications.
Using this plugin, you can actually trigger automatic notifications to be sent to customers via SMS, email, and WhatsApp, with more integrations being added all the time, based on custom order statuses you can define yourself. Here are some of Flow Notify's key features that make it stand out as one of the best WooCommerce SMS notification plugins:
Automate your notifications: Flow Notify allows you to fully automate all your notifications, saving your fulfillment staff considerable time, as they won't need to manually create and share shipping notifications when an order is out. Using WooCommerce data fields, Flow Notify can also automatically add personalized information to these customer notifications. For example, you can include order status, shipping methods, customer email address, and more. You can also send notifications manually, if so required, in real-time or scheduled. This is an excellent idea if you want to send out a targeted SMS or email marketing message to your customers.
Take complete control of the order fulfillment workflow: With Flow Notify, you can create various custom order statuses, which gives you total control over your WooCommerce order fulfillment process. By pairing these custom order statuses with Flow Notify's powerful automation triggers, you can easily send updates to customers at any stage of the fulfillment process, from picking and packing a product all the way through to delivering it. This feature only gets better when you link Flow Notify with BizPrint, also developed by BizSwoop. By integrating these two plugins, you can not only send notifications for custom order statuses but can also trigger automatic printing of anything from invoices and receipts to shipping labels and delivery notes. As with Flow Notify, BizPrint's automatic printing function is triggered when the order status changes to a pre-defined stage.
Powerful management from your WordPress dashboard: Flow Notify is built to work seamlessly within your WordPress dashboard so that you can manage all of your notifications from one single activity feed. You can send or schedule messages, create and manage new order statuses, manage your automated notifications, and more, all from the same place. You can even set up notifications for individual WooCommerce products, which customers can opt into to get out-of-stock, back-in-stock, and on-sale notifications whenever the status of those products changes, all from within your WordPress admin area.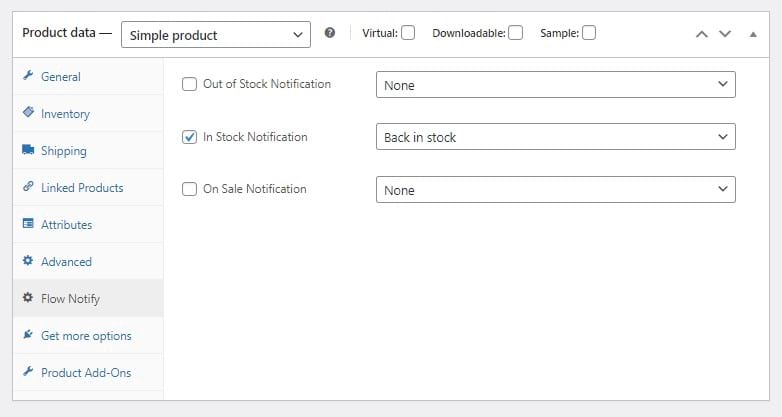 Flow Notify is available to handle all notifications on your WooCommerce store for
only $49/yr
. Email notifications are free and unlimited, and you can send SMS alerts through Twilio integration for a nominal per-text fee based on your country, for instance, $0.05 in the U.S. There's no risk to getting started – if for some reason you don't like Flow Notify, get your money back with our 30 day guarantee.
Twilio SMS Notifications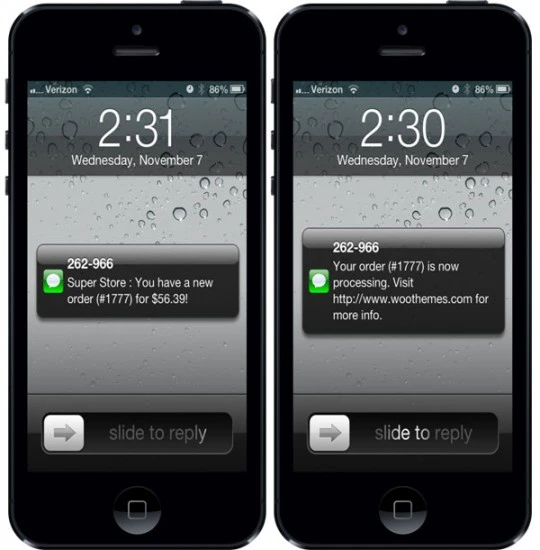 Twilio SMS Notifications is a plugin created by SkyVerge. This straightforward tool allows you to send automated SMS messages to your customers. Below are some key features that Twilio SMS Notifications offers:
Automation: Similarly to Flow Notify, you can trigger Twilio SMS Notifications' automation using an order status. Another option is to do so based on the default WooCommerce order statuses or custom statuses, but the plugin doesn't offer functionality to create custom order statuses itself. If you want to do this, you will need a companion plugin.
Customization: Twilio offers some personalization options for your SMS updates within the WooCommerce dashboard. You can include eight different data fields, such as store name, order ID, order amount, and others.
Centralized dashboard: You can keep on top of all messages sent by the plugin directly from your WordPress dashboard.
Twilio SMS Notifications costs $49/year. As the WooCommerce plugin is designed to work with Twilio, like Flow Notify, there is also an added cost per SMS message sent. If you want to have the ability to create custom order statuses, you will need the companion plugin, WooCommerce Order Status Manager, which costs another $49/year.
YITH WooCommerce SMS Notifications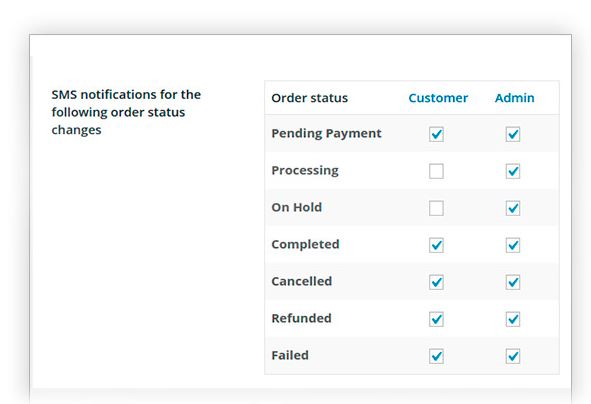 YITH WooCommerce SMS Notifications is another plugin that can send automated SMS notifications based on an order's status. Aside from this functionality, the plugin has a few noteworthy features:
SMS gateways: YITH WooCommerce SMS Notifications supports a range of different SMS gateways, including Twilio, Bulk SMS, Nexmo SMS, and a few others.
Shorten addresses: You can also shorten the length of all URLs in your notifications using the plugin's integrations with Bitly and TinyURL.
Test and manual messages: YITH WooCommerce supports test messages (so you can ensure the phone number you're reaching out to has been entered correctly) and manual messages alongside the automatic notifications included.
YITH WooCommerce SMS Notifications costs $63.99/year. To add custom order statuses, you will also need the YITH WooCommerce Custom Order Status plugin, which costs $79.99/year.
BulkGate SMS Plugin for WooCommerce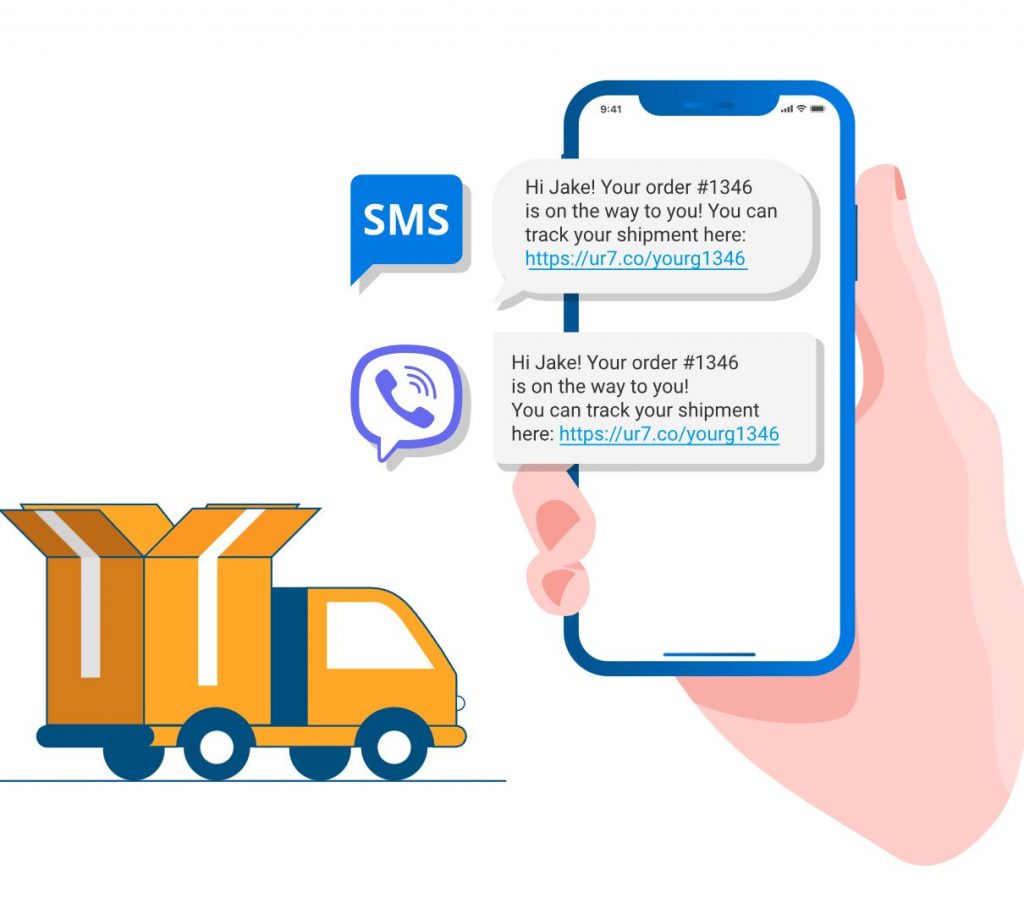 BulkGate's SMS plugin for WooCommerce provides users with a simple way to integrate their WooCommerce store with Viber and SMS messaging channels. This means the plugin supports 2-way messaging functionality, giving you more opportunities to reach out to your customers should any issues occur. Other features of the plugin include:
Logs: Access to messaging history and reports within the WooCommerce dashboard.
Bulk messaging: You can send targeted and personalized Bulk SMS and Viber campaign messages easily.
Adjustable multilingual messaging templates: BulkGate includes several templates (including multilingual options) to better handle communication with customers in more than 200 regions and countries.
The BulkGate SMS plugin for WooCommerce is the only solution on this list that has no up-front costs. All you need to do is pay for the Viber or SMS messages themselves. However, it is worth noting that Viber has a minimum monthly spending threshold. This varies by country, but in the USA, the minimum spend is currently around $100/month – which makes this a solution that only really works if your business has very high messaging volume requirements.
WPNotif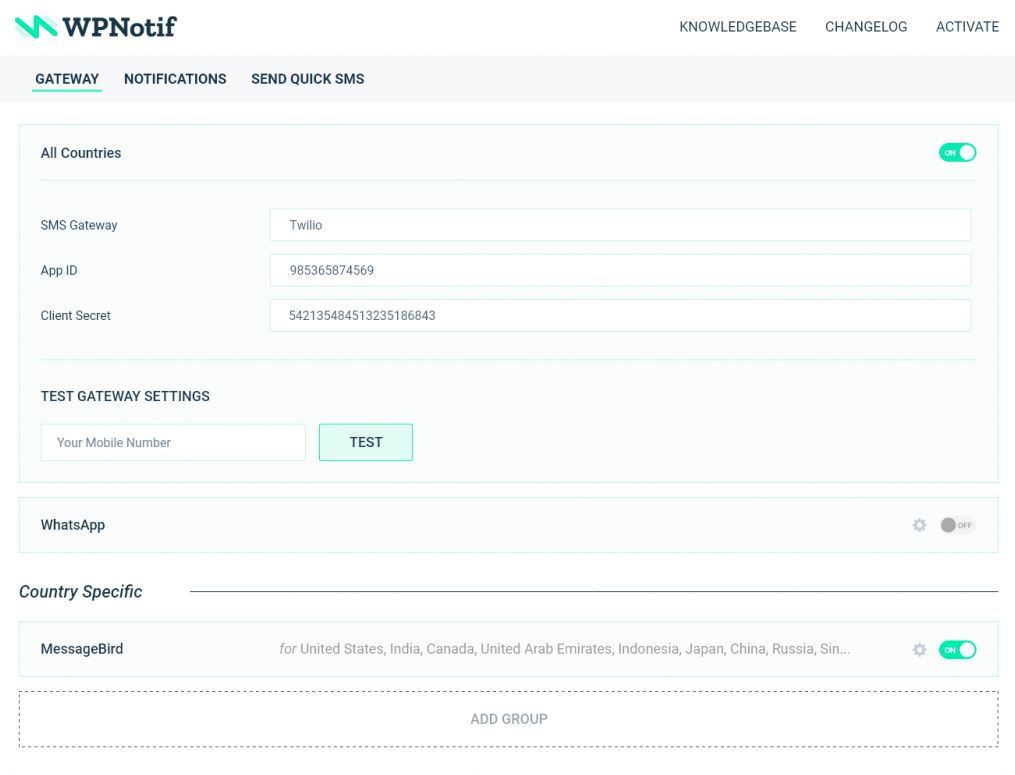 WPNotif is a WordPress plugin that allows you to send both SMS and WhatsApp notifications to customers. Like the other solutions we've covered on this list, you can use order status as a trigger. Aside from this, the plugin has a few key features worth mentioning:
Opt-in option: WPNotif offers opt-in for both SMS and WhatsApp notifications to ensure that your store remains compliant with legislations like the GDPR.
Custom order statuses: The plugin supports custom order statuses, although keep in mind these cannot be added using WPNotif, and no dedicated add-on is available to add this functionality.
Integrations: WPNotif integrates with over 170 different SMS gateways, so you can be sure you always get the cheapest SMS costs no matter the country where you're operating. The plugin can also support multilingual stores by offering a range of multilingual message templates.
Notifications: You can send alerts and notes when you post new content on your website, and you configure this to work with posts, pages, or any other post types.
WPNotif is $34/year for a regular license. While this plugin is missing some of the more powerful functionality of solutions like Flow Notify (for example, the ability to add custom order statuses), it provides a cost-effective solution. Particularly for eCommerce stores that sell in multiple different countries and want to ensure that their SMS notifications remain cost-effective.
How to Set up SMS Notifications Using Flow Notify (Step-by-Step)
Setting up custom SMS notifications for your WooCommerce store using Flow Notify couldn't be easier. All you need to do is simply follow these steps to get started:
Download and install the Flow Notify plugin. You will also need a Twilio account to set up SMS notifications, so remember to sign up for a free account if you don't have one already.
Once the plugin is installed, go to your WordPress dashboard, navigate to Flow Notify > Notifications, and then click on 'Add'.
Next, it's time to customize your communications. To do this:

Add a name for the message and determine who it will be sent to (i.e., whether it is intended for customers, or if it is an internal notification for your store admin). Using this feature of Flow Notify, you can send notifications to store administrators if an order has failed (for instance, if the payment hasn't gone through), preventing you from sending out orders that haven't been paid for.

Choose the type of message you want to send. For the purpose of this guide, we will pick SMS (but remember the plugin supports additional types of notifications, and new ones are being added all the time!).
Fill in the message using a combination of plain text and WooCommerce data fields. This allows you to automatically personalize your notifications by pulling in details like order status, order ID, shipping method, and many more.

Select which order status you want to use as a trigger to dispatch the notification. Flow Notify lets you easily add new custom order statuses, too, if you need to. To do this, simply navigate to Flow Notify > Order Status, and add a new status. For example, you might choose to create a new 'Shipping' status so you can configure Flow Notify to send an SMS notification to your customers when their orders have been dispatched from your warehouse.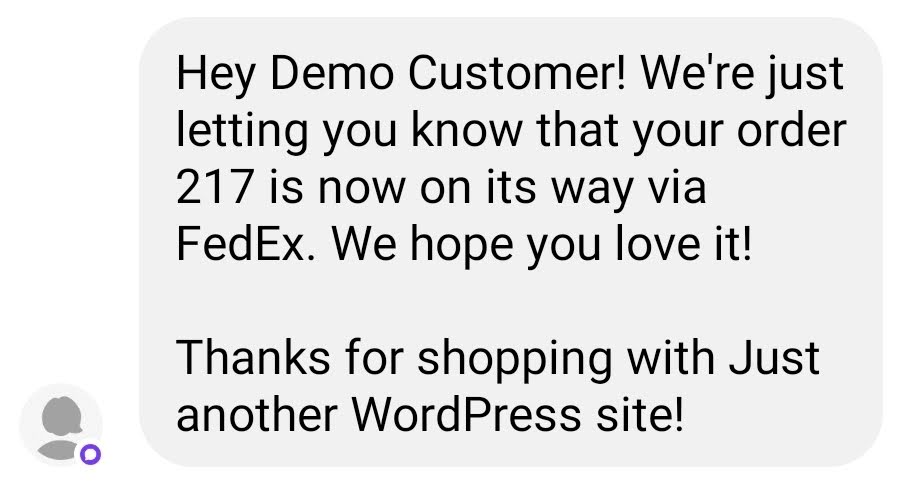 That's it! Once you've set up a new SMS notification and ensured it is set to 'enabled', your customers will receive an SMS message whenever their order reaches your chosen pre-determined status. You can keep track of all messages sent, order updates, and notifications from one unified Flow Notify dashboard.
Automate your SMS order notifications with Flow Notify
Setting up WooComerce SMS notifications for your store is a great way to follow up with customers about the status of their orders without requiring any intervention from you as the shop owner. They're also an excellent opportunity to send out coupon codes or information on promotions to encourage repeat business, or automatically share links to customer surveys and support pages.
If you want to add SMS notification functionality to your WooCommerce store, Flow Notify is the best solution because:
You can create and send fully automated notifications, using WooCommerce data fields to pull in dynamic data about a specific customer, order, shipping method, and more.
You can generate and use your own custom order statuses to allow granular control of when you send out notifications to customers. These statuses can also be used in conjunction with BizPrint to automatically print shipping labels or other documents at set points in the fulfillment process.
All of Flow Notify's powerful features can be managed from within your WooCommerce dashboard.
Why not test out Flow Notify for yourself with a 7-day free trial?