If you're looking to turbocharge the success of your WooCommerce store, then automation could well be the answer. There are a host of automation tools that can help you to maximize efficiency and really drive your business forward in as little time as possible.
From enhancing the customer experience to saving your staff time and boosting your conversion rate, automation is a powerful gift that all WooCommerce store owners can benefit from.
In truth, there are a lot of tasks that you can automate with WooCommerce plugins, and at first glance, it can be a little overwhelming to decide which plugins will be right for you. If you're in that boat, then this is the post for you.
In this article, we'll run through five easy ways to add automation to your online store, including outlining some of the best plugins that will set you on the path toward getting all the benefits that automation can bring.
Why should you automate your WooCommerce store?
There's a reason why companies in all industries look to automate their processes: it's a surefire way to increase profits. It'll help to make scaling your business more straightforward, will free up time, and perhaps most importantly of all, will provide you with quality, reliable work that you can have confidence will help your business. Below, we'll run through some of the key advantages of automating your eCommerce store with WordPress plugins.
Make your order fulfillment process more efficient
Having too many manual steps in your fulfillment process can slow down your operations. The goal should be to have as few manual processes in your workflows as possible, which will allow you and your team to work quicker, more efficiently, and better than before.
Automating certain steps of your fulfillment process, or better yet, creating fully automated workflows, will allow you to scale your order processing capacity in a cost-efficient and reliable manner without having to increase working hours.
Improve customer experience
All eCommerce stores need happy customers. After all, a happy customer is more likely to become a repeat customer, which can lay the foundation for long-term success. Plus, they'll be more likely to recommend your business to their friends and family, bringing new customers to your store, enhancing your profits, and helping your business to grow.
Automation can improve the customer experience by enhancing communication, providing a straightforward checkout process, and offering faster delivery times, among other benefits.
Increase conversions
It's not the number of website visitors you receive that'll determine the success of your business – it's the number of conversions. It can be tricky to get your visitors to take action and make a purchase, but thanks to the possibilities offered by marketing automation, you can increase the likelihood of them pulling the trigger.
With automation, you can send well-timed email campaigns to your customers to encourage repeat business or suggest products based on their previous purchases, and also send stock notifications or other follow-up emails to recover lost orders.
The result of increased conversions can be profound, providing greater profits that you can then use to grow your business even further.
Save staff time
Your staff should spend their working hours on value-adding tasks, not menial time-consuming tasks. With the right automation plugins, you can take a host of manual processes and turn them into automated processes. This will free up your employees' time, which they can then spend on other tasks that'll help to grow your business.
So what kind of time-consuming tasks can automation take care of? Tasks such as processing new WooCommerce order requests, sending out email marketing campaigns and order confirmation emails, and balancing inventory between online and in-person sales are just a few of the tasks that plugins can manage.
Ready to get started with automation? Below, we'll look at the automation tools that you can use to grow your business.
5 ways to automate your WooCommerce store
Automating your WooCommerce store can sound overwhelming, but it doesn't need to be. There are a host of handy plugins that can help you to get up and running on your automation journey with as little difficulty as possible.
There's no shortage of automation options available for eCommerce store owners, but if you're just looking to get started, then focus on the following areas:
Customer communication
Good communication is key to providing a superior experience for your customers. At its best, communication should be prompt, useful, and personalized, and should encourage your customers to think positively about your brand and become long-term, repeat customers.
Rather than relying on your employees to send emails, look at automation. With a plugin like Flow Notify, you can automatically send follow-up emails and order notifications, ensure that your customers have all the information they need at the exact right point in the order fulfillment process, and also send personalized offers, promotions, and discounts that show that you value their business and loyalty.
If you're looking to automate your customer communications, then Flow Notify is the best plugin solution available. Let's take a look at some of the functionality this powerful plugin can bring to your WooCommerce store:
Unlimited custom notifications
Providing personalized notifications is a surefire way to help your customers feel valued by your business. With Flow Notify, you can create unlimited custom notifications using dynamic information from WooCommerce data fields, such as customer name, order status, order ID, and shipping method. Rather than being tied to the default WooCommerce email templates, you can craft bespoke messages that will provide a better experience for your customers.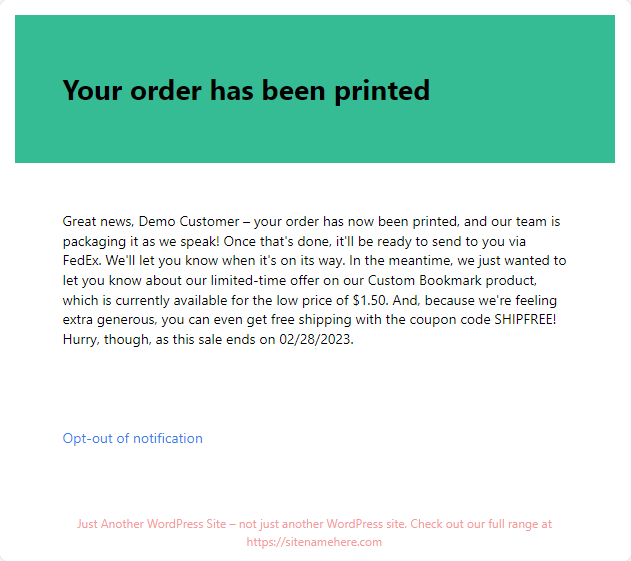 Powerful notification triggers
It's not just the content of automated notifications that counts. The timing of the notification does, too. With Flow Notify, you can ensure that your automation notifications are sent at exactly the right time thanks to triggers such as review captures, order status changes, account creations, and more. You can even set up your own custom order statuses to take more granular control over when your notifications are sent during (or after) the order fulfillment process.


Intuitive notification scheduling
Your communication with your customers shouldn't end once their order has been fulfilled. Indeed, it should just be the beginning. With Flow Notify, you can send coupon codes, product recommendations, and survey requests to your customers, thanks to the plugin's notification scheduling feature. You can arrange these notifications to be sent at a set time or add delays, so your customers receive the notification after a specific amount of time after a trigger. 
Marketing
Anything that can help your business to boost conversions should be welcome. By incorporating WooCommerce marketing automation into your online store, you can increase sales and help to make your customers feel valued.
For instance, you may consider sending out automatic emails to tell your customers about your on-sale products or provide a special offer to your previous customers. You could even send out automated emails after a customer has placed a new order with upsell or cross-sell offers for them to consider.
Flow Notify is jam-packed with useful features that can help to make your automated marketing campaigns a success – here are just a couple of examples of the kinds of WooCommerce email marketing automation the plugin can bring to your store:
Automatic stock notifications
Have a customer interested in a product of yours that has been out of stock? With Flow Notify, you can provide opt-in notifications for any changes in stock availability. For example, you can send out-of-stock, back-in-stock, and on-sale notifications that can alert your customers to those need-to-know changes. These notifications are also fully customizable, so you can include promotional details, coupon codes, and other information that can entice your customers to place an order.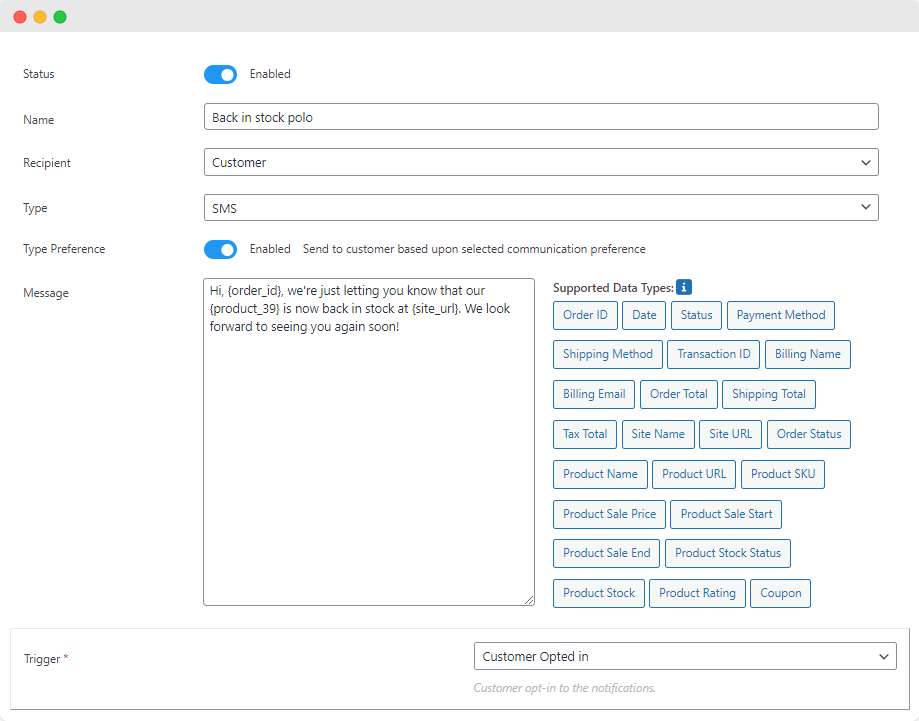 Scheduled marketing campaigns
A well-timed notification can be powerful. With Flow Notify, you can pre-schedule your WhatsApp, email, and SMS notifications to be sent to your customers at a time and date of your choosing. This is the ideal way to launch a marketing campaign, especially if you routinely run promotions that only require minor adjustments for each sales cycle.
Order fulfillment
Your customers want their orders to be fulfilled as smoothly and as straightforwardly as possible. With a streamlined operation, you can boost your customer satisfaction while, at the same time, improving your business by freeing up staff time and increasing your order processing capacity. Any eCommerce business looking to scale should pay particular attention to improving its order fulfillment operations.
A fulfillment process that results in faster delivery times, less human error, and improved customer satisfaction should be the goal. Flow Notify, along with sister plugin BizPrint, can automate many of the key areas of your order fulfillment process. By pairing these two powerful plugins, you can speed up order processing, improve communication with customers and your fulfillment staff, and automatically produce all the necessary order and delivery documents you'll need during the fulfillment process.
Let's take a closer look at how Flow Notify and BizPrint can help to streamline your order fulfillment workflow:
Automated order status updates
Your customers want to keep updated with the status of their orders. Rather than having to send out these updates manually, Flow Notify allows you to send notifications automatically at every stage of the fulfillment process. This will help your customers to have realistic expectations about when they should expect their order to arrive and help them to feel like their business is valued by your brand.
On top of this, as we've already touched on, Flow Notify enables you to create your own custom order statuses, offering even greater control over your order notifications and enhancing the customer experience.
Automated printing of fulfillment documents
With BizPrint, the sister plugin of Flow Notify, you can automatically print the essential documents you'll need throughout the order fulfillment process, including picklists, packing slips, shipping labels, and more. Printing is based on pre-defined order statuses, ensuring your fulfillment team will always have the documents they need at the perfect stage, from checkout through to delivery.
This can speed up the fulfillment process and reduce the likelihood of errors caused by the manual processing of orders and the generation of fulfillment documents. BizPrint integrates seamlessly with Flow Notify, too, which is especially handy if you have a unique fulfillment workflow that uses custom order statuses.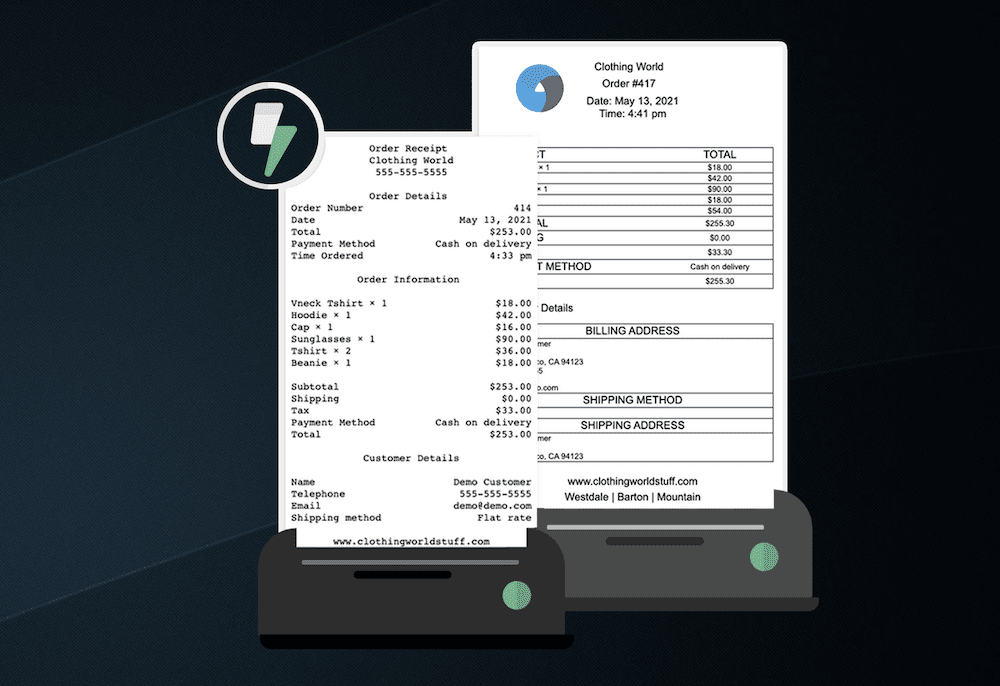 Inventory management
Keeping track of your inventory is important at all times, but it's especially key if you run an omnichannel store. Your ability to provide a good customer experience and have a smooth fulfillment process will depend on keeping track of in-person and online sales and how they impact your inventory. Failure to do so may result in stockouts which lead to delayed or canceled orders.
You can get a clear view of your stock levels by using advanced point-of-sale (POS) software such as Jovvie from BizSwoop, which will automatically synchronize your stock levels after both in-person and online sales. Jovvie is perfect for all types of products, even complex ones, and can also help to keep track of your product add-on inventory, too.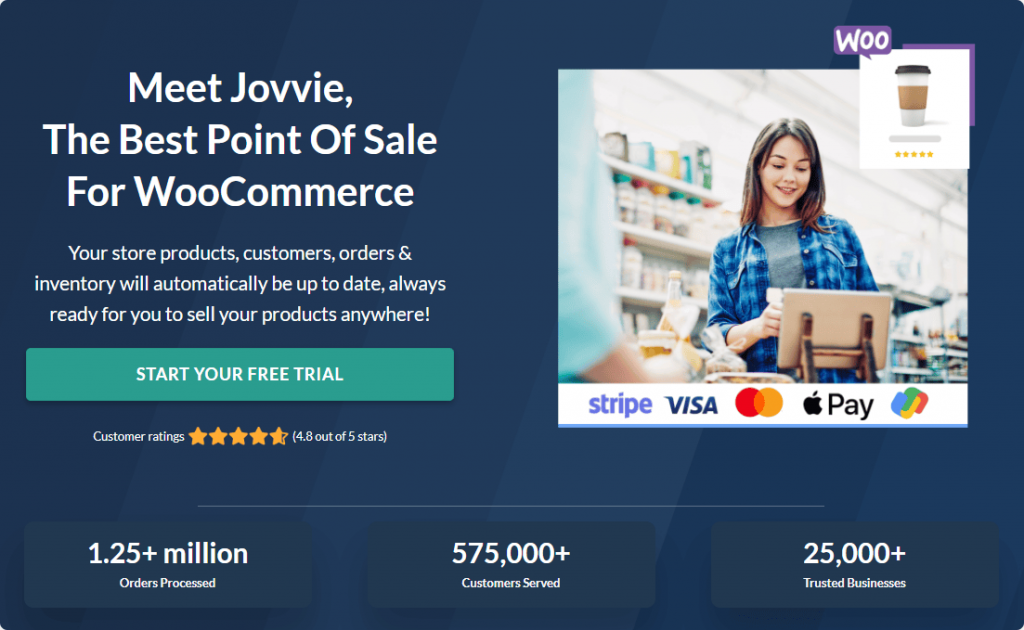 Payments and invoicing
A smooth checkout and payment process is a fundamental component of a good shopping experience. Indeed, failure to have a straightforward payment process can result in high shopping cart abandonment rates, which can have a big impact on your sales.
You can make your checkout process as smooth as can be by integrating a payment gateway such as Stripe into your site. This will allow your customers to make payments from within your site, without having to enter their card details elsewhere.
Omnichannel store owners can integrate Stripe Terminal, Stripe's in-person sales component, with Jovvie, enabling you to process in-person payments via a wide range of methods, including debit cards, credit cards, and Google Pay and Apple Pay. This will lead to more options for your customers, resulting in a more positive customer experience.
With BizPrint, you can further this efficiency and experience by automatically generating receipts and invoices as soon as an order is placed or payment is made. For in-person sales, BizPrint can automatically print receipts using a digital or thermal receipt printer. For online sales, the PDF print feature allows you to include a PDF invoice within your order confirmation emails.
Scale your WooCommerce store with the power of automation
Any WooCommerce store owner looking to scale their business and improve customer experience will find value in automating their store processes. After all, the benefits of doing so are extensive. From providing more efficient order fulfillment, enhancing conversions, saving staff time, and addressing customer pain points, automation can make running and scaling your business as straightforward as possible.
With Flow Notify and other plugins from the BizSwoop suite, you can automate your store's communication, marketing, order fulfillment, inventory management, payments and invoicing, and much more. These powerful plugins can revolutionize how you and your team do business — and how your customers perceive your brand. 
If you're ready to get started, then why not take the first step by giving Flow Notify a try? It's available from just $49/year with a 30-day money-back guarantee. Then, once you've seen the benefits of adding this powerful plugin to your online store, you'll definitely want to check out the rest of BizSwoop's suite of plugins to help take your WooCommerce store to the next level.