Want to set up shipping confirmation emails on your WooCommerce store? Whether you're interested in streamlining customer service or boosting customer satisfaction, trust, and loyalty, shipping confirmation emails are a fantastic (but often overlooked) tactic.
These emails also inform your customers at every step of the order fulfillment process. What's more, your staff can use shipping confirmation emails to answer queries that would otherwise take up a disproportional amount of their time.
In this article, we'll explore the importance of shipping confirmation emails in WooCommerce and provide a comprehensive guide on how to set them up using core settings or plugins like Flow Notify. So, if you're ready to optimize your WooCommerce shipping confirmation emails, let's get started!
Why should you send shipping confirmation emails?
Today's eCommerce landscape is incredibly competitive, meaning businesses must offer a seamless and positive shopping experience to succeed. Fortunately, you can kickstart this experience by sending shipping confirmation emails to customers who have completed an order on your WooCommerce website.
Shipping confirmation emails give customers peace of mind, letting them know that their order went through and is being processed promptly. This assurance is so crucial that a 2022 study revealed 85% of online consumers in Europe claim that a bad delivery experience would prevent them from shopping with the same retailer again.
Shipping confirmation emails also play a vital role in keeping customers informed about the status of their orders. This transparency prevents confusion, builds trust, and can even reduce the number of customer inquiries about order status. In addition, with fewer customers reaching out for updates, businesses can focus on other vital tasks, such as improving their products and services.
Moreover, a well-crafted shipping confirmation email can be a powerful marketing tool. You can encourage repeat purchases and cultivate customer loyalty by providing customers with relevant information, personalized messaging, and even promotional offers and coupons. As a result, you'll improve the overall customer experience and contribute to the long-term success of your eCommerce business. It's a win/win!
Writing effective shipping confirmation emails
A well-crafted shipping confirmation email is a powerful tool capable of updating customers in real time and creating a positive impression of your brand. Below, we've outlined the key elements that your shipping confirmations should include:
Order details: Provide a summary of the purchased items, order number, and total cost. This helps customers quickly verify their order information and ensures transparency.
Shipping information: Include the shipping address, estimated delivery date, and shipping method to inform customers when and how they can expect their order to arrive.
Tracking information: Adding a tracking number and a link to the carrier's website lets customers monitor the progress of their shipment, reducing the likelihood of inquiries about the order status.
It's also worth adding personalized elements to your shipping confirmation emails. For example, addressing customers by name drums up engagement and sets a friendly tone. Additionally, ensure your subject line is clear and concise, indicating the purpose of the email (i.e., "Your order has shipped!"). This way, customers can quickly identify the email's content, and you minimize the risk of the email being overlooked or deleted.
Think of personalized email communication like your favorite coffee shop barista. They remember your name and go-to order, making you feel valued and special. Similarly, customized emails can foster a stronger connection with your customers. You can enhance their overall experience with your brand by acknowledging their unique needs and interests.
Be sure to maintain a consistent brand voice and design throughout your shipping confirmation email, too. Doing so not only enhances the professionalism of your communication but also reinforces brand recognition. You can also use your company's logo, color scheme, and typography to create a visually appealing email that aligns with your brand identity.
Finally, include any relevant links in your shipping confirmation email. You might want to link to your company's website, customer support, or social media channels to give customers easy access to additional information or assistance.
It's also a great way to encourage engagement with your brand! Relevant links in your shipping confirmation emails act as pathways back to your online store or social media platforms – it's like leaving a trail of digital breadcrumbs for your customers to follow. These links guide customers back to potentially undiscovered goods and services and increase the likelihood of future purchases. Moreover, they invite customers to engage with your brand on social media, fostering a deeper connection.
How do you set up shipping confirmation emails in WooCommerce?
There are two ways to set up WooCommerce emails: using the core settings or utilizing plugins for enhanced email customization and automated shipping notifications. We'll delve into both methods below and show you how you can implement them – starting with WooCommerce's built-in settings.
Using WooCommerce core settings
If you'd like to set up shipping confirmation emails using the built-in WooCommerce settings, follow along with our simple tutorial:
From your WordPress dashboard, navigate to WooCommerce > Settings > Emails.
Here you'll be able to customize your email templates – and you can click the "Manage" button next to the template you'd like to modify.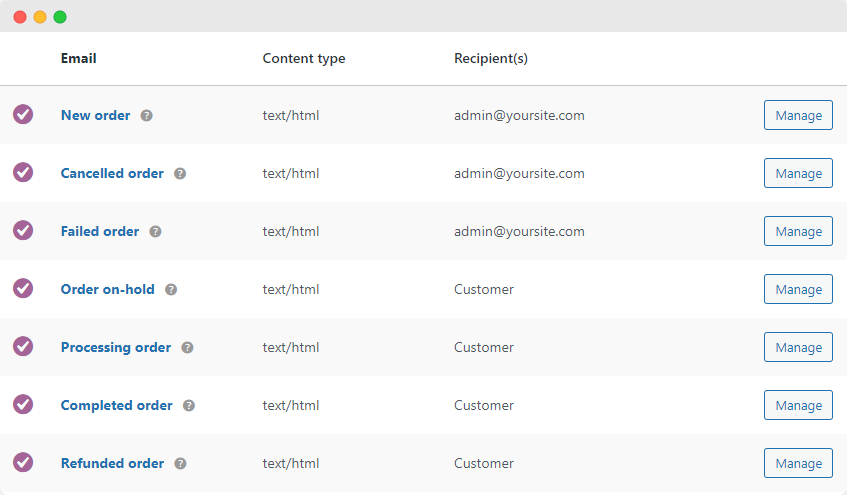 You can change the subject and email heading via this page, and add additional content. Check the "Enable this email notification" box to ensure the email is sent to customers when their order is shipped.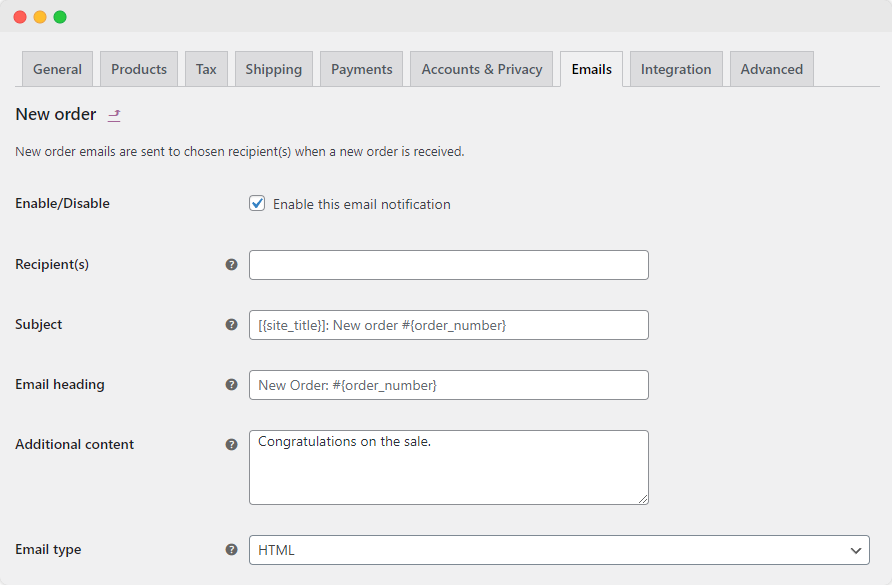 To further customize the appearance of your email templates, scroll down to the bottom of the page, where you can change background colors, text colors, headers, and footers.
Once you've finished customizing the email, click the "Save changes" button to ensure your modifications are applied.
Utilizing plugins for enhanced shipping notifications
WooCommerce's core settings offer basic customization options for shipping confirmation emails – but many store owners find them limiting. Using plugins can improve the email process, however, and plenty of plugins are specifically designed for this purpose.
One of these plugins is Flow Notify, which simplifies the process of sending email notifications, including shipping confirmation emails. Using Flow Notify, you can unlock several benefits and advanced features that aren't available in WooCommerce's default settings.
These benefits include:
Custom order statuses: Create and manage custom WooCommerce order statuses that align with your business operations, allowing for more relevant shipping confirmation emails.
Automated notification triggers: Set up automatic triggers for sending shipping and order confirmation emails based on specific conditions to streamline communication and reduce manual intervention.
Track and manage notifications from a single dashboard: Easily track the status of your notifications and manage all your email templates from one central location.
Improved email design: Access a range of professionally designed email templates that can be easily customized to match your brand identity.
Advanced customization options: Enjoy more control over your email content and layout, including the ability to add custom fields and dynamic content.
Advanced notifications: Send notifications via email, SMS, and WhatsApp, ensuring customers receive timely updates on their preferred communication channels.
25 data fields: Personalize your shipping confirmation emails with 25 WooCommerce data fields, including order status, shipping method, and customer email, providing tailored information to your customers.
In the next section, we'll provide a detailed guide on how you can install, set up, and customize Flow Notify to send shipping confirmation emails.
How to automate shipping confirmation emails using Flow Notify
Automating order notifications, such as shipping confirmation emails, is just one of the many ways you can streamline your WooCommerce store's operations. For example, Flow Notify lets you easily set up automated shipping confirmation emails that keep your customers informed and engaged.
Follow the steps outlined below to get started:
Download and install Flow Notify on your WooCommerce site.
Navigate to Flow Notify > Notifications from your WordPress dashboard.
A list of your notifications will appear on this page. To add a new notification, click on "Add". This will take you to an "Add new notification" page.
Fill in the text fields, including the name of the notification, the recipient, and type of notification (email/SMS/WhatsApp).
Fill in the Message field with your notification message. You can use a combination of plain text and WooCommerce data fields. The data fields allow you to dynamically pull data like billing name, shipping method, and more into your notification message.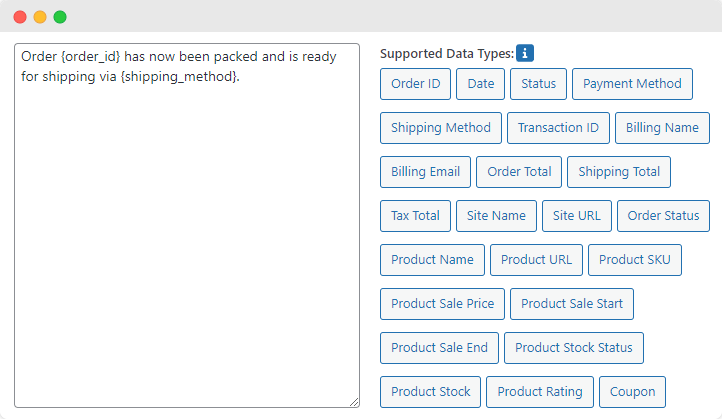 Click the dropdown next to "Trigger" to set a trigger that will automatically send your notification. For a shipping confirmation email, select "Order status changes".


From the dropdown, select the correct settings for "Status changes from" (for a shipping confirmation, you'll need to choose Processing) and "Status changes to" (for a shipping confirmation, you'll need to select whatever status you set your orders to when you send them out to customers – for example, you could create a custom order status called Shipping with Flow Notify).
Select the timing (run immediately is the best choice for shipping confirmations, but you can also delay notifications by specific timeframes, which is excellent for follow-up notifications).

Remember to save your changes!
Setting up automated shipping confirmation emails with Flow Notify is a game-changer for your WooCommerce store. It only takes a few minutes to get notifications set up, and then your customers will receive shipping confirmation emails whenever you process a new order.
Benefits of custom shipping confirmation emails
Creating custom shipping confirmation emails does far more than cement your brand – they can also help resolve common obstacles customers face during their purchasing journey. Let's take a look at some of these benefits:
Clear communication
Shipping confirmation emails alleviate customer concerns by providing timely updates when orders have been dispatched. For example, imagine you're waiting for a friend at a coffee shop, but they're running late. A quick text update from them can instantly alleviate your worry. Similarly, shipping confirmation emails act as that reassuring text for customers who might be anxiously waiting for their order.
In the eCommerce world, the waiting game begins after a customer clicks the 'buy' button. Shipping confirmation emails provide timely updates and transparency about the order processing status – and means that your customers never have to guess about the status of their orders.
Customer satisfaction
Sending prompt and accurate shipping confirmation emails can also build trust and foster a positive relationship between the customer and the business. Trust is built when you say you'll do something and follow through. In the business context, this means that when customers see you're consistently delivering on your promises by providing timely and accurate updates, their trust in your brand deepens.
Emails ultimately help build a foundation of trust that encourages customers to return, creating a cycle of positive experiences and ongoing engagement.
Increased sales and retention
Well-crafted shipping confirmation emails can increase sales and customer retention by encouraging repeat purchases and fostering customer loyalty. They're also a useful email marketing tool, motivating them to discover other products or services. Consider shipping confirmation emails as your brand's charming salesperson, subtly encouraging repeat business. They're not just functional, informing customers about their purchase journey, but also a golden opportunity to showcase your brand's character and commitment to customer satisfaction.
Think about it this way: when you order a meal at a restaurant, the waiter doesn't just drop the food at your table and disappear. They check in, ask how you're enjoying the meal, and suggest a dessert to top it off. Similarly, a good shipping confirmation email doesn't just say, "Your package is on its way." Instead, it says, "We appreciate your business, here's how you can track your package, and by the way, have you seen our latest products?"
Reducing support inquiries
Providing shipping information is like giving your customers a GPS for their orders. It empowers them to track their packages themselves, reducing the number of "Where's my order?" inquiries your support team receives. This frees up time for your team to tackle more complex issues and saves your business resources – like time, budget, and personnel. It also boosts customer satisfaction. After all, who doesn't appreciate the peace of mind that comes with knowing exactly when that eagerly awaited package will arrive?
Moreover, when your support team isn't flooded with routine inquiries, they have more time to engage in proactive customer service. This might include reaching out to customers to gather feedback, implementing improvements based on customer suggestions, or simply thanking customers for their business.
Encouraging repeat business
A smooth and well-communicated shipping process makes for a high-quality customer experience. Imagine you're on a road trip. You'd prefer a well-marked highway over a bumpy, unmarked trail, right? In the same way, customers prefer a smooth and well-communicated shipping process when they're on their eCommerce journey.
This positive experience doesn't just end when the package arrives. It lingers, becoming a part of their overall impression of your brand, encouraging repeat business, and ultimately contributing to your business's long-term revenue growth.
Opportunity for upselling and cross-selling
Shipping confirmation emails can also serve as an opportunity to promote additional products or services. When your customer makes a purchase, they indicate an interest in your offerings. Therefore, including suggestions for related products (cross-selling) or higher-end items (upselling) in the email can be a very effective strategy.
It's like saying, "We noticed you bought this stylish lamp. Perhaps you'd like these matching cushions or this premium rug to complete your room?" By doing this, you're not only providing value to your customers by helping them discover new products, but you're also increasing your sales potential. It's a strategy that's beneficial for both parties.
Gathering feedback
Including a request for feedback in your shipping confirmation emails allows you to open a dialogue with your customers, inviting them to share their thoughts and experiences.
This not only shows customers you value their opinions, but it also gives you invaluable insights into how to improve your service and pinpoint potential issues. It's like getting directions from your customers to navigate the eCommerce landscape better, enhancing your business based on their direct experiences and needs.
Enhance your WooCommerce shipping email experience
It's easy to overlook the value of shipping confirmation emails, but they're actually an effective way to communicate with customers. Now that we've explored the benefits of these emails and how to set them up, there's no better time to integrate them into your WooCommerce store.
Providing customers with timely and accurate shipping information is a great way to build trust and foster a positive relationship between your business and your store visitors. And by enhancing your shipping confirmation emails, you can reap the benefits of improved customer satisfaction and increased sales!
However, if you want to take your order fulfillment process to the next level, you'll want to use Flow Notify! This powerful WooCommerce plugin comes with advanced customization options, automated notifications, and multi-platform messaging capabilities that can transform how you communicate with your customers.
Don't miss the opportunity to improve your online store's customer experience and boost your business's success! Check out Flow Notify's powerful suite of features and start crafting personalized shipping confirmation emails.