Effective communication is the backbone of any successful eCommerce store – and order notifications allow business owners to keep customers updated about the status of their orders at every step of the fulfillment process.
Order notifications can also significantly enhance the customer experience, drive conversion rates, and optimize business operations. However, to maximize the impact of your notifications, you'll need to send them via multiple channels to increase the chances of them being seen, read, and acted upon.
One platform, in particular, is becoming an integral part of the eCommerce world – WhatsApp, the world's most popular messaging app.
Unfortunately, despite WhatsApp's worldwide popularity, WooCommerce doesn't offer native support for WhatsApp order notifications – but there is a solution to this problem. In this article, we'll walk you through setting up WhatsApp notifications for WooCommerce orders, so your business will always be able to reach customers where they're most active.
Why send WhatsApp order notifications from your WooCommerce store?
So, why go to the trouble of sending WhatsApp order notifications from your WooCommerce store in the first place? The benefits are multifaceted, from improving the customer experience to automating internal processes, and can positively impact store owners and customers alike.
Let's delve deeper into why you should consider leveraging this powerful communication strategy.
Improve customer experience: Enrich your customers' shopping journey by providing timely customer updates about their orders. Whether it's confirming a new order or notifying them about their orders' delivery status, each alert reassures customers about their purchases, eliminating confusion.
Save staff time: Automating order notifications with WhatsApp can drastically reduce the manual processes involved in customer communication. By pre-empting common customer inquiries, you free up valuable time for your team to focus on other aspects of your business.
Gain marketing opportunities: Order notifications present a golden opportunity to market to your customers directly. Alongside updates about orders, you can send exclusive offers, coupon codes at checkout, and personalized product recommendations. These tactics can drive additional sales and boost your conversion rates.
Improve customer retention: Consistent communication is key to building long-term customer relationships. With scheduled notifications and tailored offers, you will keep your brand in your customers' minds, increasing the likelihood of repeat purchases.
While these benefits apply to order notifications in general, using WhatsApp to send your messages adds a new layer of advantages.
Reach more customers: With over two billion monthly active users, WhatsApp opens up a massive potential customer base for your online store. Tapping into this popular platform can expand your reach significantly.
Increase engagement: WhatsApp messages have an astonishing 98% open rate, meaning your notifications will likely be read. You can also leverage media content like images, videos, and audio files to create more engaging notifications.
Provide flexibility: Different customers have different communication preferences. Adding WhatsApp to your suite of notification channels allows you to offer more flexibility and a personalized experience. This can help your store stand out in the crowded eCommerce landscape and provide a competitive edge.
A cost-effective option: WhatsApp notifications are generally less costly than traditional text messages. They use internet data, making them a more affordable choice for businesses, especially those with an international clientele.
How do you send WhatsApp order notifications in WooCommerce?
Adding WhatsApp notification functionality to your WooCommerce store may seem daunting – particularly seeing as the eCommerce platform lacks built-in WhatsApp support. However, with the right tool, it's a straightforward process.
Enter Flow Notify, a versatile plugin that seamlessly integrates WhatsApp notifications into your WooCommerce store. Let's take a closer look at some of Flow Notify's most valuable features:
Automatic notifications: Flow Notify allows business owners to automate notifications triggered by changes in order status (for example, whenever an order is placed, shipped, or delivered). The plugin supports WhatsApp in addition to SMS and email, so you'll be able to reach out to customers via their preferred platforms.
Personalized messages: By using WooCommerce data fields, you can personalize your notifications with Flow Notify. Include the customer's name, order status, and shipping method, amongst other data, to each notification, and craft tailored communications that make each customer feel valued – and potentially enhance their loyalty.
Scheduled notifications: With Flow Notify, you can schedule notifications to be sent at a specific time after purchase. This feature comes in handy if you want to encourage repeat business – a well-timed offer or reminder can spur customers to make new purchases.
Custom order statuses: Flow Notify allows you to create your own custom order statuses. These can then be used to trigger notifications, giving you granular control over your fulfillment process, and help you cater to specific business needs and customer demands more effectively.
Centralized dashboard: Manage all your notifications and order statuses from one place with Flow Notify's centralized dashboard. This unified management system saves you time and simplifies the notification management process, making it a breeze to keep up with every customer order.
Flow Notify is available starting at $49 per year, offering a 30-day money-back guarantee. This means that you'll be able to put Flow Notify to the test yourself, with minimal risk, and see how it transforms your WooCommerce store.
How to set up WhatsApp order notifications in WooCommerce with Flow Notify (step-by-step)
Now that we've covered the benefits of sending WhatsApp order notifications from your WooCommerce store and introduced Flow Notify, the powerful tool that makes it all possible, it's time to get hands-on.
Step 1: Create a message template
First, navigate to Flow Notify > Connections from your WordPress dashboard. Here, you'll need to add your Meta business account credentials, namely your WhatsApp From number ID, Business Account ID, and Token. Click "Check Connection" to verify that your account has been successfully connected.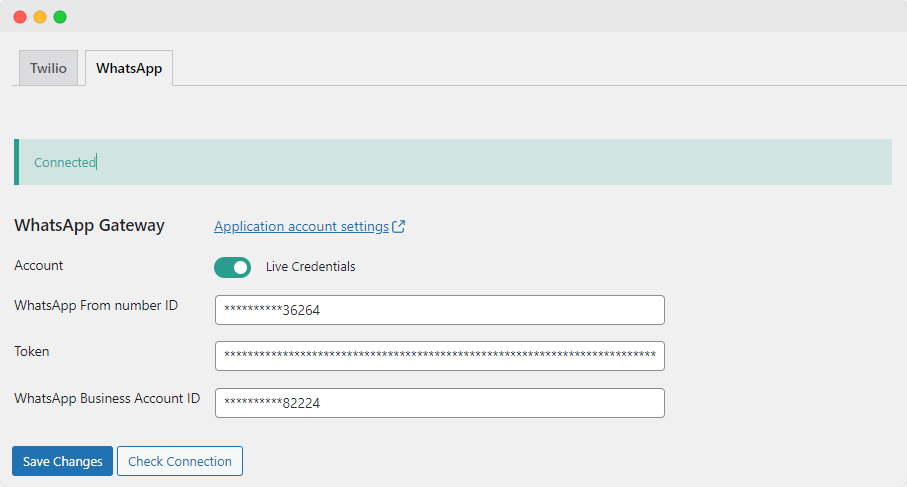 Next, navigate to Flow Notify > Notifications. From here, you can create your first message template. This will need to be approved by Meta (who own WhatsApp) before you can send WhatsApp notifications, which usually takes around 24 hours. To make a template, select the 'Message Templates' tab and click 'Create template'.
Name your notification and choose the type of notification you'd like to send – which will be WhatsApp! Then, name the template you'll use when creating your notifications, and select the template language and category.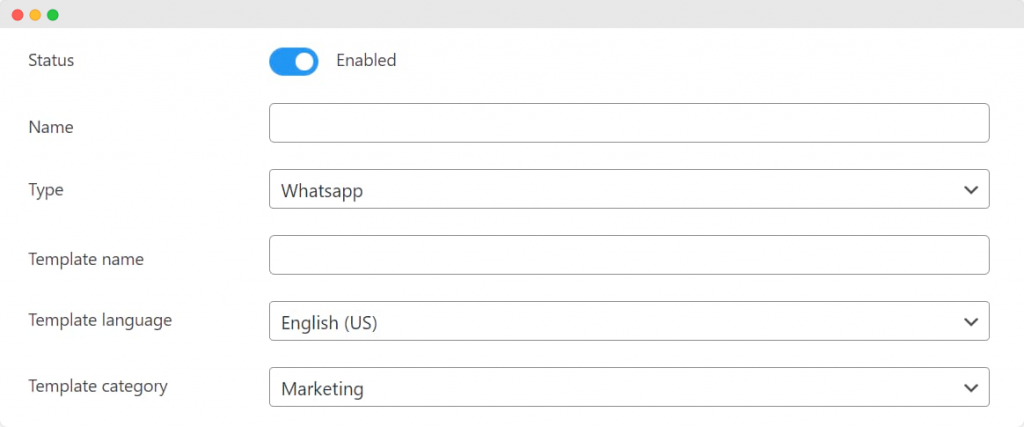 Here you can craft the message that'll form the body of your notification, and Flow Notify lets you use a combination of plain text and WooCommerce data fields.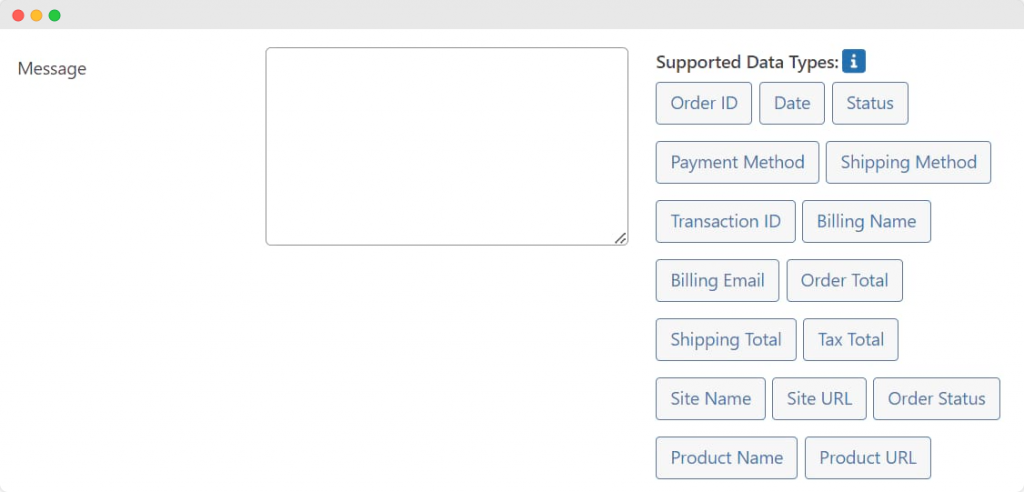 Click 'Save Changes' when you're done. Your template will be sent to Meta for approval, and you can view the approval status at any stage from the Message Templates dashboard.
Step 2: Set up your notification
To get your notification up and running, head to your WordPress dashboard, navigate to Flow Notify > Notifications > My notifications, and click 'Add'.
Name your notification and add a recipient (either Customer or Admin). Then, choose which kind of notification you'd like to send (again, this should be WhatsApp).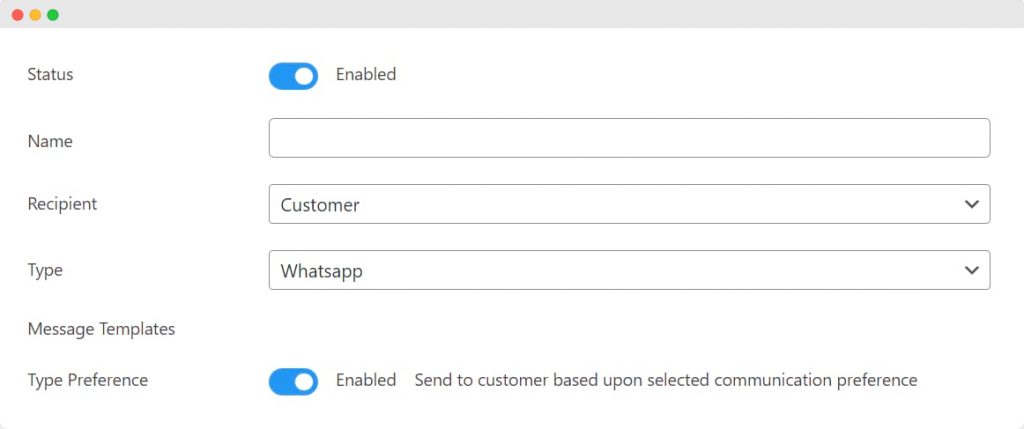 Select your new template from the 'Message Templates' section.
You'll then be prompted to choose a trigger for your notification. You'll probably want to use a status change trigger for order notifications. So, select 'Order Status Changes' and choose the specific order statuses that an order needs to change from and to in order to trigger the notification. (Remember, you can create your own custom order statuses with Flow Notify!)


Click 'Save Changes', and you're all done!
Your notification will now be sent to your customers whenever their order status changes, as indicated in your pre-set trigger.
Harness the power of WhatsApp notifications with Flow Notify
Setting up WhatsApp notifications can have a massive impact on your WooCommerce store – and it's a straightforward task! You'll improve the customer experience with reliable purchase updates, save staff time by answering common fulfillment queries, and even tap into additional marketing opportunities by reminding your customers of upcoming sales.
The cherry on top? WhatsApp's immense popularity, high engagement rates, and communication flexibility create a more robust and effective notification system.
Flow Notify is the best solution to seamlessly integrate this functionality into your WooCommerce store. The plugin can automate notifications, personalize messages, schedule alerts, create custom order statuses, and centralize your dashboard – so you can manage your WooCommerce notifications with ease.
Ready to try WhatsApp order notifications for yourself? Start your journey with Flow Notify, enjoy increased business efficiency, and let the plugin transform how you communicate with your customers!