Want to enhance your email marketing strategy to generate more leads, retain existing customers, and drive more sales for your WooCommerce store? If the answer is yes, then you've already recognized the importance of a potent email marketing strategy in the world of eCommerce.
Email marketing isn't just about sending out newsletters or promotional emails.
It's an influential tool that allows you to engage users at various stages of the customer journey, reinforcing your brand message, nurturing relationships, and persuasively guiding users to conversion.
Deploying the right email marketing tools, understanding your audience, and sending targeted, personalized messages that resonate with them can dramatically increase conversion rates, nurture customer loyalty, and boost overall customer satisfaction.
However, the multitude of email marketing solutions available on the market today can seem overwhelming.
How do you choose the right one for your WooCommerce store?
How do you discern which tools offer the features that will most effectively enhance your email marketing campaign?
This is where we can help.
In this comprehensive guide, we look at the importance of email marketing for WooCommerce, offering a detailed overview of eight top email marketing services you should consider for your business.
We'll break down their key features, pricing plans, pros and cons, and highlight best practices to maximize their potential. Plus, we'll also look at Flow Notify, a WooCommerce plugin designed to seamlessly automate your customer notifications.
Let's begin!
Introduction to email marketing for WooCommerce
Email marketing is a strategic digital marketing approach that involves sending emails to prospects and customers. It's about nurturing relationships, promoting engagement, and leading recipients from awareness to consideration, and finally to decision and advocacy.
On an online store, you can automate processes like sending cart abandonment reminders, promotional emails, new product announcements, personalized offers, and much more with the help of email marketing tools. These emails then act as significant touchpoints to keep your customers engaged with your brand, and to keep them coming back.
The efficacy and success of email marketing are echoed by recent statistics. In 2023, email marketing revenue was estimated to be more than 10 billion U.S. dollars globally, underscoring its position as a highly lucrative marketing channel. It's also worth noting that budget allocation for email marketing has seen a consistent increase over the years, reinforcing its perceived value among marketers and business owners.
These figures suggest a robust, upward trend, making it clear that investing in email marketing for your WooCommerce store isn't merely an option, it's an essential strategy for growth and customer retention.
Why email marketing is crucial for eCommerce success
The benefits of email marketing for eCommerce businesses are manifold.
Leads to higher conversion rates: Emails can be personalized to match the preferences of the customer, making them more likely to make a purchase.
Improves customer retention: Regular communication keeps your brand fresh in the minds of customers, encouraging repeat purchases.
Increases brand awareness: With every email sent, you are reinforcing your brand image and values.
Allows for better customer segmentation and targeting: You can categorize your customers based on their buying behavior, preferences, and other metrics and target them with tailored messages.
Enhances customer loyalty: By providing valuable content and exclusive deals through emails, you can cultivate a loyal customer base.
Reduces cart abandonment rates: Sending timely reminders and enticing offers can help you encourage customers to complete their purchases, thereby boosting sales.
Must-have features for WooCommerce email marketing
When searching for the ideal email marketing service for your WooCommerce store, it's important to consider specific features that can make your email marketing more effective. The right service will offer an optimal blend of functionality and ease of use, allowing you to connect with your audience in the most engaging way possible.
Here are some key features to look out for:
Seamless integration with WooCommerce: The chosen email marketing tool should seamlessly integrate with your WooCommerce platform. This ensures your customer data is easily accessible and usable, enabling you to send targeted emails based on past purchases, customer behavior, and more.
User-friendly interface and ease of use: The best email marketing tools are those with intuitive, user-friendly interfaces that don't require advanced technical knowledge. This allows for easy campaign creation, management, and tracking, thereby saving you time and effort.
Customizable email templates and designs: A diverse selection of customizable email templates and design tools is a must-have. This will enable you to create aesthetically appealing and engaging emails that reflect your brand and resonate with your audience.
Automation and scheduling capabilities: Look for tools that offer automation features for sending welcome emails, follow-ups, cart abandonment reminders, and more. Scheduling capabilities are equally important to ensure your emails are sent at optimal times for engagement.
Detailed analytics and reporting: You need to track the performance of your campaigns to make data-driven decisions. Tools with robust analytics and reporting capabilities will help you measure open rates, click-through rates, conversion rates, and more, enabling you to refine your strategies over time.
Personalization and segmentation options: The ability to segment your audience based on various criteria (such as purchase history, interests, or demographic information) is crucial. Coupled with personalization features, this allows for targeted, relevant content that improves engagement and conversion rates.
A/B testing and optimization features: These help you identify what works best for your audience and optimize your campaigns for maximum effectiveness.
Affordable pricing and scalability: The tool should offer flexible pricing plans that can scale with your business. You should choose a service that suits your current needs and budget, while also providing room for future growth.
Choosing an email marketing service with these features will set you on the right path to achieving better customer engagement, higher conversion rates, and ultimately, more sales for your online store.
Top 8 email marketing services for WooCommerce
Selecting the right email marketing service can make all the difference in your WooCommerce store's growth and profitability. With this in mind, we've curated a list of the top 8 email marketing services based on their powerful features, ease of use, and overall effectiveness in achieving email marketing goals.
1. Flow Notify
Flow Notify is a comprehensive communication plugin designed specifically for WooCommerce. It facilitates real-time customer engagement through automated SMS, email, and WhatsApp notifications. Businesses use Flow Notify to keep customers updated about order statuses, promotions, and events.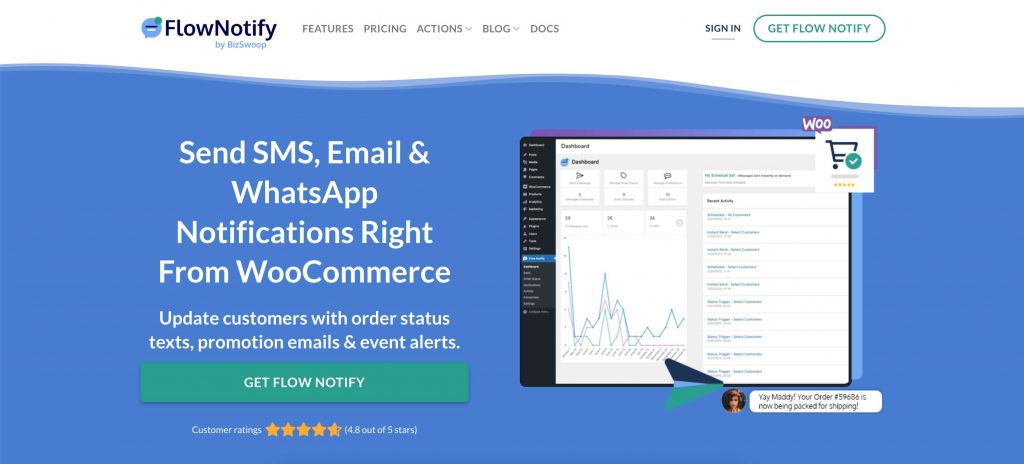 With over 1 million notifications sent to more than 175,000 customers across 500 businesses, Flow Notify is a highly rated and trusted solution.
Automated notifications: Automatically send SMS, email, and WhatsApp notifications based on certain triggers, such as changes in order status, products that are back in stock, and shipping updates.
Custom WooCommerce order statuses: Create and manage custom order statuses, enabling specific triggers for notifications at each stage of the order process.
Supports over 25 data type inputs: Include specific customer information, such as order status, product name, or shipping method, in your notifications.
Individual, one-off notifications: Send notifications for events like sales or promotions.
Product availability and sales notifications: Keep customers updated about the availability of products or ongoing sales.
Customer and subscriber contact syncing: Keep your customer data up-to-date and ready for use.
Real-time or scheduled notifications: Notify customers about various aspects of your operations, from promotions to important updates.
Single platform for tracking and managing notifications: Get an overview of all the notifications sent to customers.
Flow Notify is ideal for store owners and marketers who need an efficient, automated system to communicate updates, promotions, and events to customers across multiple channels.
Flow Notify offers value for money with its pricing plan at $49 per year. Moreover, it offers a 100% money-back guarantee for 30 days, which ensures that your customers can get their money back if they aren't satisfied.
2. MailPoet
MailPoet is a robust email marketing solution that integrates seamlessly with WordPress. It enables users to create, manage, and send beautiful and effective emails to their subscribers directly from their WordPress dashboard.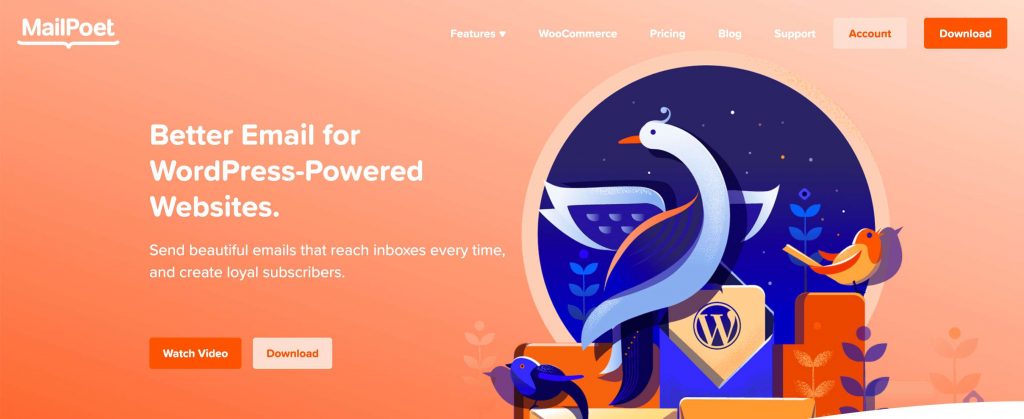 Trusted by over 600,000 websites, MailPoet simplifies email marketing, fosters customer loyalty through personalized communication, and ensures high deliverability rates and GDPR compliance.
Key features of MailPoet
WordPress integration: Manage your email campaigns directly from your WordPress dashboard.
Pre-designed templates: Choose from a variety of templates to create professional-looking emails without any design skills.
Automated emails: Send welcome emails, blog post notifications, and other types of emails at set intervals.
High deliverability: Ensure your emails reach your subscribers' inboxes and not their spam folders.
Subscriber management: Manage your subscribers, automatically remove inactive users, and segment lists for targeted campaigns.
Easy importing: Switch from another email solution easily by importing subscribers from a CSV file.
GDPR compliance: Safeguard your subscribers' data and respect their privacy rights.
Comprehensive knowledge base and support: Get assistance with your queries or issues from a dedicated support team.
MailPoet is a good option for those in need of a reliable, easy-to-use solution for creating and managing email marketing campaigns directly from their dashboard. It offers a free basic option, and the business plan is available at $10 per month.
3. Cartflows
Cartflows is a leading WordPress sales funnel builder designed to optimize the user's eCommerce journey and turn site visitors into customers.
With a user base of over 200,000, Cartflows focuses on increasing conversions and maximizing profits via sales funnels, including upsells, order bumps, and detailed insights for analysis.
Key features of Cartflows
High-converting landing pages: Create effective lead generation and email list-building pages on the fly.
Optimized checkout: Collect more customer emails and reduce cart abandonment.
Customer behavior insights: Understand your customers better and enhance your email marketing strategies.
A/B split testing: Identify top-performing pages and optimize your email opt-in placements.
Conversion-optimized templates: Create effective email opt-ins and other elements.
Dynamic offers: Display relevant offers based on customer data to boost sales.
Abandoned cart recovery: Engage customers who have abandoned their carts with targeted email reminders or offers.
Custom checkout page: Create a custom checkout page and collect email addresses for post-purchase email marketing campaigns.
Cartflows is great for those looking to optimize their sales funnels, improve conversion rates, and effectively implement email marketing strategies. However, it has a pretty high price point, with pricing starting from $129 per year.
4. WooCommerce Email Customizer
WooCommerce Email Customizer is a user-friendly plugin designed to streamline the customization of email templates for WooCommerce online stores. It allows businesses to create professional, personalized emails that align with their brand, fostering stronger customer relationships and enhancing the customer experience.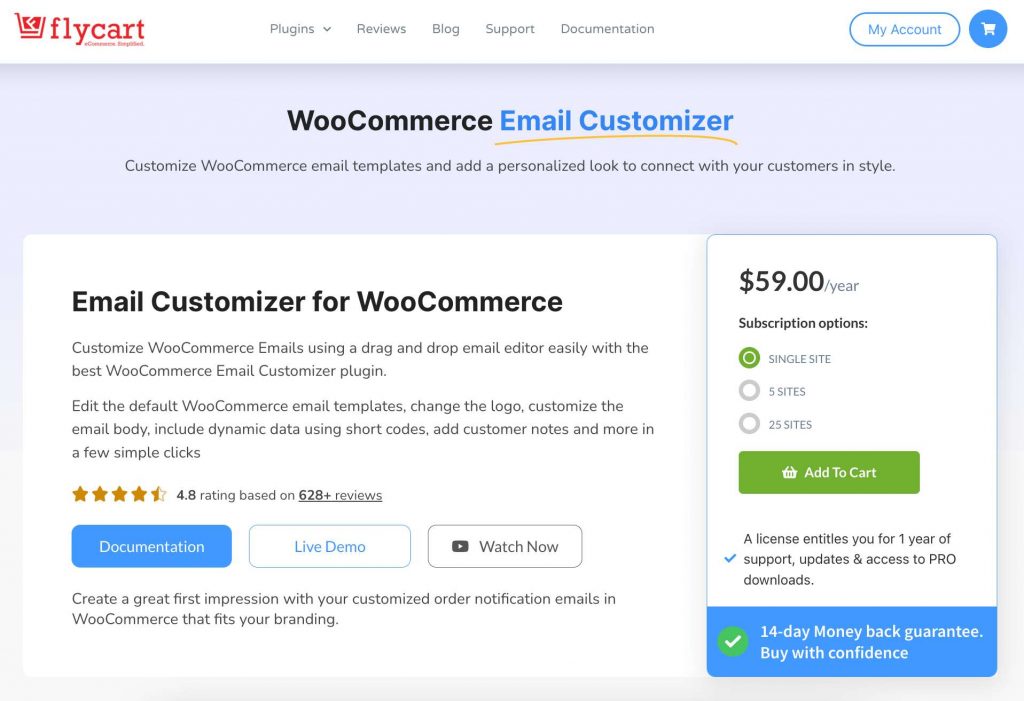 Key features of WooCommerce Email Customizer
User-friendly, drag-and-drop editor: Customize your email templates without any coding.
Dynamic content: Incorporate customer notes, addresses, and order summaries using shortcodes.
Ready-made templates: Adjust these to suit your needs.
Compatibility: Works well with other WooCommerce plugins, including WooCommerce Subscriptions, WooCommerce Bookings, WPLoyalty, and WooCommerce Order Status Manager.
Multilingual support: Create email templates in multiple languages.
Branding options: Tailor emails to match your brand by changing fonts, colors, and background images.
Custom shortcodes: Include unique, dynamic data in your emails.
WooCommerce Email Customizer is best suited for store owners looking to personalize and enhance the appearance of their store's emails for a better customer experience and brand consistency. Its pricing starts at $59 per year.
5. Brevo
Brevo, previously known as Sendinblue, is a comprehensive plugin that enhances email marketing capabilities. It's designed for seamless customer data synchronization, email deliverability optimization, and integrated CRM functionalities, aiding effective customer segmentation, management, and engagement.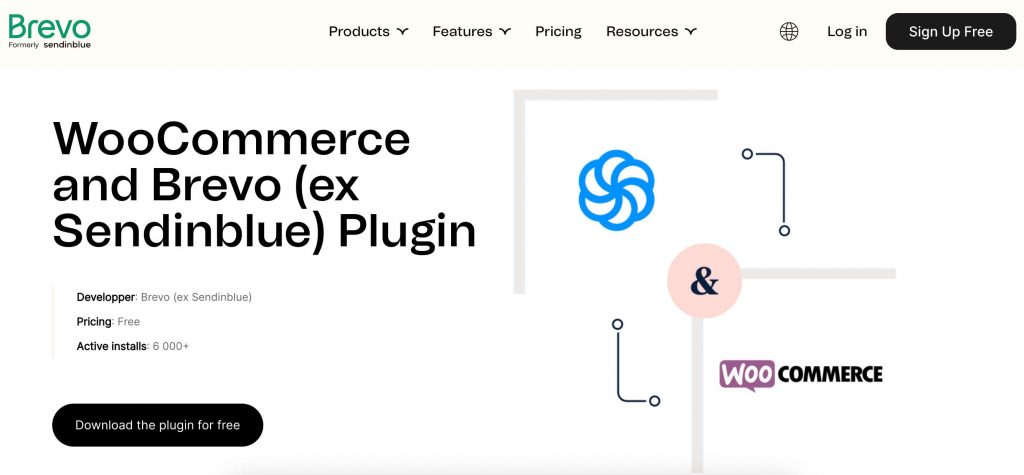 Key features of Brevo
Automatic sync: Seamlessly sync customer data between your store and Brevo.
High email deliverability: Ensure your emails reach your customers' inboxes.
Customer segmentation: Segment your customers based on their purchasing behavior.
Centralized contacts: Manage all your customer contacts in one place.
Beautiful newsletters: Create and send attractive newsletters to customers and prospects.
Transactional emails: Handle emails related to order confirmations, account creations, and more.
Marketing automation: Automate various activities, including sending marketing and transactional text messages from your WooCommerce dashboard.
Facebook ads and retargeting features: Boost your online presence and reach more potential customers.
Brevo is suited to SMEs who need an effective and easy-to-use solution for email marketing, customer data synchronization, and marketing automation. The discovery plan is free, and the business plan is available at $65 per month.
6. Omnisend
Omnisend is an all-in-one email and SMS marketing platform that focuses on driving revenue and delivering personalized customer experiences. It's a valuable tool for eCommerce businesses looking to grow and succeed.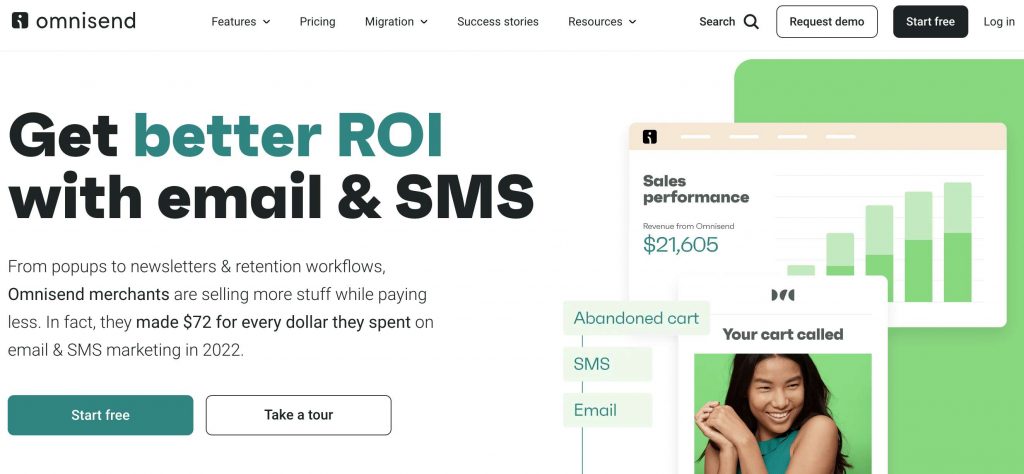 Key features of Omnisend
Integrated email and SMS campaigns: Deliver personalized experiences across multiple channels.
Pre-built automations: From welcome series to post-purchase campaigns, automate your customer communication.
Unlimited segments: Create segments based on campaign activity, shopping behavior, and more.
24/7 customer support: Get help anytime you need it.
Customizable templates: Create beautiful emails without any coding.
Customizable forms: Capture new subscribers effectively.
Advanced reporting tools: Access aggregate sales data, campaign reports, and more.
Omnisend is well-suited to eCommerce businesses of all sizes who want to drive sales, engage customers with personalized messaging, and automate marketing campaigns. It has various pricing plans, including a free plan. Its most popular plan, the Standard plan, is available at $16 per month. If you want SMS capabilities, you'll need the pro plan, which is $59 per month.
7. Constant Contact
Constant Contact is a comprehensive email and digital marketing platform that helps small businesses enhance their marketing efforts. It offers user-friendly tools and innovative solutions to engage customers, drive results, and build deeper relationships with targeted audiences.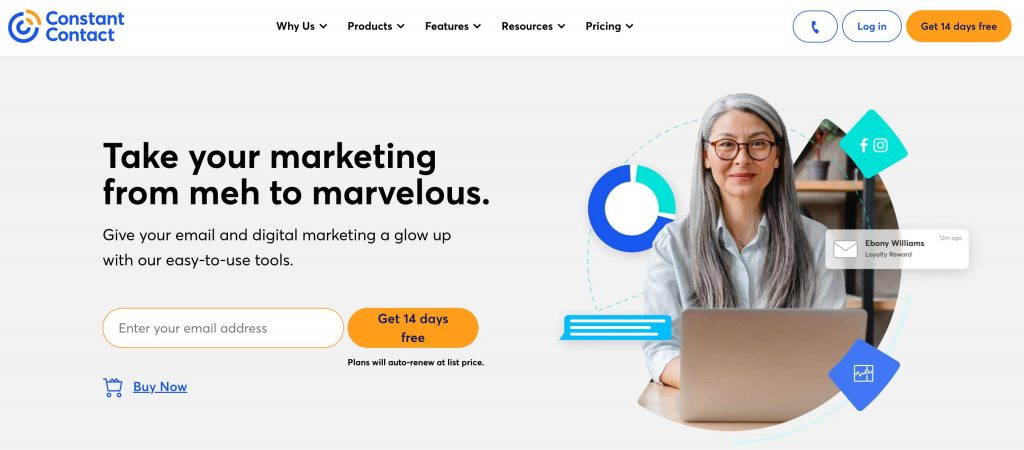 Constant Contact delivers resources and expertise to support businesses in capturing leads, sharing updates, driving traffic, and achieving success.
Key features of Constant Contact
Professional email campaigns: Create and send professional emails to engage your audience.
Text messaging: Reach customers on their mobile devices for immediate communication.
Social media management: Schedule posts, create ads, and engage with audiences across multiple platforms.
Automated email campaigns: Trigger emails based on specific actions or behaviors.
Performance insights: Track opens, clicks, and shares to understand your email performance.
Professional email templates: Choose from a wide selection of designs to create beautiful emails.
Contact list segmentation: Organize and segment your contacts to target the right audience.
Integration: Connect and sync contact, product, and sales data with other tools and platforms like Salesforce, Shopify, and Etsy.
Constant Contact is best suited for small businesses that want to effectively engage and communicate with their audience through email marketing, SMS marketing, social media marketing, and automation. Pricing starts from $12 per month for the Lite plan.
8. AutomateWoo
AutomateWoo is a WooCommerce plugin designed to automate and optimize marketing efforts for online stores. It helps businesses grow their revenue by streamlining customer communication and offering customizable campaigns.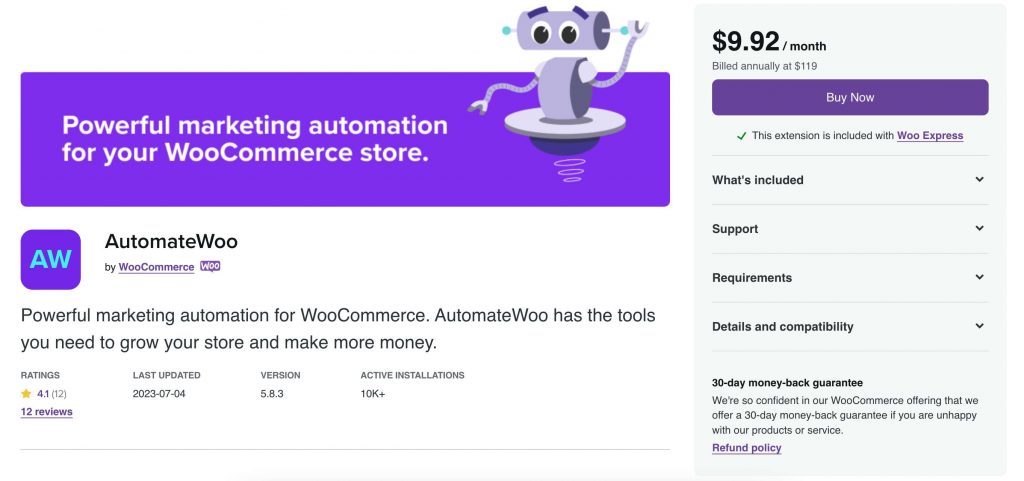 With easy setup and integration, AutomateWoo provides a comprehensive solution for WooCommerce users seeking to enhance their marketing strategies.
Key features of AutomateWoo
Custom workflows: Create workflows using triggers, rules, and actions within WooCommerce.
Product-specific emails: Encourage reviews or suggest related products based on specific purchases.
Cart reminders: Send emails to customers who have left items in their carts.
Inactive customer targeting: Engage inactive customers with special offers and product recommendations.
SMS notifications: Send notifications to customers or administrators based on a wide range of triggers.
Review incentives: Offer discounts to encourage customers to leave product reviews.
Wishlist reminders: Send timed reminder emails for wishlist products and notify customers when those products go on sale.
Birthday emails: Send personalized birthday emails and coupons using the AutomateWoo Birthdays Add-on.
AutomateWoo is ideal for businesses looking to streamline their workflows, recover abandoned carts, target inactive customers, and personalize their communication. Its pricing is $9.92 per month.
Maximize your eCommerce success with Flow Notify
Effective email marketing is a crucial aspect of any successful eCommerce business. It allows you to engage with your customers, drive sales, and foster loyalty.
With a wide array of email marketing services available, it's important to choose one that aligns with your WooCommerce store's specific needs and objectives.
Flow Notify stands out with its comprehensive communication capabilities. By facilitating real-time customer engagement through automated SMS, email, and WhatsApp notifications, it offers a robust solution for keeping your customers updated about order statuses, promotions, and events.
When compared to other email marketing services, Flow Notify offers unique advantages such as multi-platform support, a custom order status manager, powerful automation triggers, and a dedicated support team. It's a versatile tool that can adapt to your business's changing needs and scale as you grow.
If you're ready to take your WooCommerce store to the next level, try Flow Notify. It's not just an email marketing tool – it's your partner in building lasting relationships with your customers and achieving eCommerce success.
Start your journey towards more efficient and effective email marketing with Flow Notify, today!