As an eCommerce store owner, connecting with your customers is crucial for building strong relationships and driving sales.
Regular communication is key, whether you're keeping customers in the loop about the status of their orders, notifying them about new products, or sending targeted promotions. These marketing tactics can also improve customer engagement, retention, and conversions – making notifications a must-have for any WooCommerce store.
It's easy to overlook SMS messaging as an effective means of communicating with customers – after all, we're more familiar with swapping texts with friends and family than with buyers. However, SMS messages offer several benefits over other forms of communication, including higher open and read rates, immediate delivery, and increased engagement.
In this article, we'll explore the benefits of SMS marketing for WooCommerce in greater detail and provide practical tips on how to set up and send notifications that drive sales. So, whether you're a seasoned eCommerce professional or just starting, read on to discover the potential of SMS messaging for your WooCommerce store.
Why should you send SMS messages from WooCommerce?
There are many ways to market your WooCommerce store, but SMS messaging is a powerful tool that offers several advantages over more traditional forms of marketing communication.
The most significant advantage of SMS messaging is that it boasts higher open rates than email. In fact, a 2019 report claimed that internet users opened and read 42% of commercial SMS messages and just 32% of emails.
As most people check their phones regularly throughout the day, SMS messages also have a better chance of being received instantly. Not only does this improve customer communication, but it can also contribute to increased retention rates and conversions.
SMS messaging also requires customers to opt-in to receive your texts, meaning you can rest assured that they're relevant customers with an active interest in the products or services listed on your site. In turn, you can send targeted promotions and updates to these engaged buyers to enhance the value of your marketing campaigns.
Sending updates and support messages via a medium as personalized as SMS notifications has the additional benefit of strengthening customer connection to your brand – allowing you to nurture a loyal consumer base who are more inclined to make repeat purchases.
What type of SMS messages should you send?
The highly customizable nature of SMS marketing means that there are various ways to communicate with your customers and drive sales.
Transactional messages
Transactional notifications (or order notifications), which are typically used to update customers about their order status, can also be a powerful marketing tool for WooCommerce store owners. For example, including promotional offers or coupon codes in these messages can encourage repeat purchases and make customers feel valued – especially if the transactional messages are personalized!
These messages are an excellent way for store owners to improve customers' relationship with the brand, shore up loyalty, and make them more likely to shop with the store again.
Stock notifications
Alerting customers when products they've shown an interest in come back into stock or go on sale lets store owners provide personalized value in their communications and helps foster positive relationships. Customers will come to look forward to your SMS notifications, knowing that they're usually relevant to their needs!
One of the biggest advantages of sending stock notifications via SMS is that customers must opt-in to receive them. Providing customers with the agency over how (and when) they're notified ensures that messages only reach people who are genuinely interested in the products. In addition, this targeted approach can reduce unsubscribe rates, as it keeps your communications relevant and can lead to better conversion rates and repeat business.
SMS marketing campaigns
Transactional messages also allow WooCommerce store owners to gather contact information (like phone numbers) from clients and curate a list of relevant leads. Then, owners can update the list of leads about new offers and promotions.
Personalizing these offers helps customers feel valued, meets specific needs, and can boost retention rates by ensuring that offers are always relevant to their interests.
How do you send SMS messages from WooCommerce?
Currently, WooCommerce doesn't offer built-in functionality for sending SMS notifications to customers – but you can use a plugin to bridge the gap. Plugins typically work by connecting WooCommerce to a messaging platform like Twilio, which uses APIs to send text messages and make calls to customers around the world.
Twilio can be easily integrated with your WooCommerce site, allowing you to set up SMS alerts to keep your customers updated with order statuses and promotions.
If you want to learn how to connect your WooCommerce store to Twilio, visit Flow Notify's integration guide for detailed step-by-step instructions.
What are the best plugins for sending WooCommerce SMS notifications?
Store owners can take their pick of WooCommerce SMS plugins to keep in touch with customers – though some offer more functionality than others. Below, we've detailed our top picks for setting up SMS notification functionality.
Flow Notify
Flow Notify is an industry-leading solution for WooCommerce notifications. With a custom notification builder, automated notifications, and cross-platform support, this powerful plugin offers a range of features that set it apart from the competition.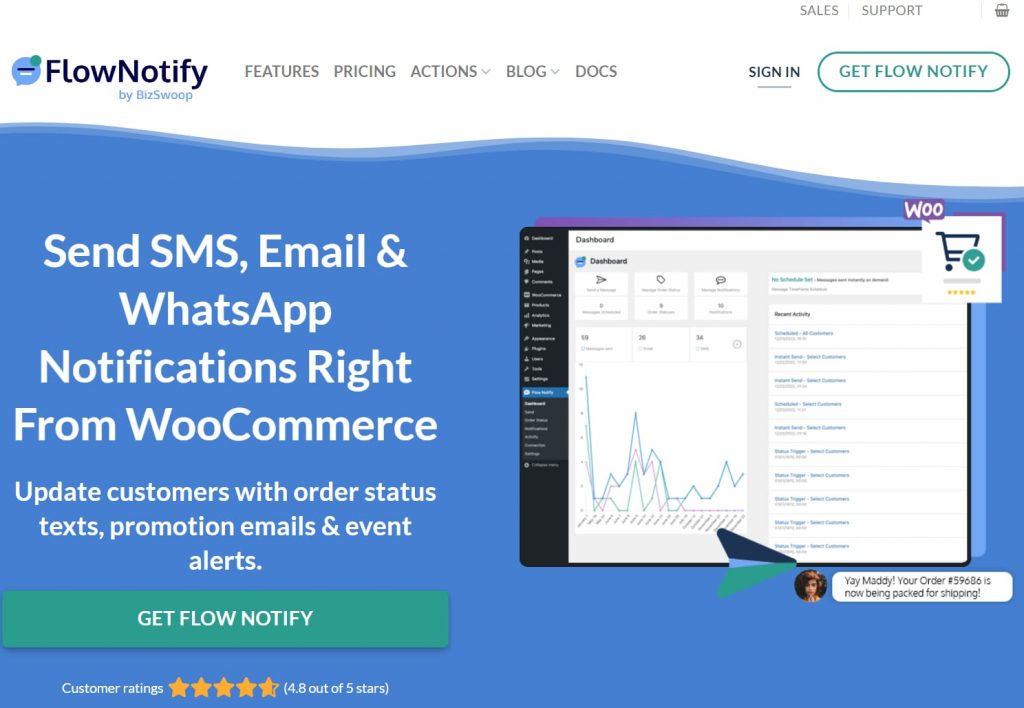 FlowNotify – the best WooCommerce SMS notification plugin for updating customers
Custom notification builder
Use Flow Notify's custom notification builder to craft engaging messages that pull dynamic data from your WooCommerce store, like order ID, customer name, and order status updates. Combining WooCommerce data fields and plain text ensures your notifications are always relevant to the recipient.
Automatic notifications
Save time and resources by creating automated SMS messages based on various triggers. Choose from triggers like product stock, account creation, and new orders, and even enforce a delay between the trigger and the notification being sent to maximize the impact of marketing campaigns and upcoming promotions.
Custom order statuses
Branch out from WooCommerce's limited core order statuses and create your own! Building custom statuses in Flow Notify gives store owners more control over their SMS marketing campaigns and, in turn, can boost conversions and ensure communications with customers remain valuable. Plus, managing and configuring your custom order statuses is simple, thanks to Flow Notify's central dashboard.
Instant and scheduled notifications
Because Flow Notify supports instant and scheduled messages, you can send ad hoc notifications alongside those you've automated. Flow Notify also makes it easy to pick the perfect time and date to send your messages, and users can set windows to determine when notifications will or won't be sent. These considerations ensure that WooCommerce communications reach customers at just the right time – for maximum engagement!
Cross-platform support
Whether you're solely interested in SMS alerts or want to include email marketing and custom WhatsApp notifications in the mix, Flow Notify has you covered. The WordPress plugin is hugely versatile and capable of handling multiple methods of communication – and it even plans to add support for Skype, Twitter, and Instagram soon!
Flow Notify pricing starts from just $49/year, including a 30-day money-back guarantee, and Twilio-powered SMS messages incur a nominal extra feed based on your country (e.g., $0.05 in the U.S.). So, there's no reason not to try Flow Notify today and take your SMS notifications to the next level!
Twilio SMS Notifications
Twilio SMS Notifications makes it easy for WooCommerce store owners to send SMS updates directly via the Edit Order screen – and even easier for customers to opt in to updates.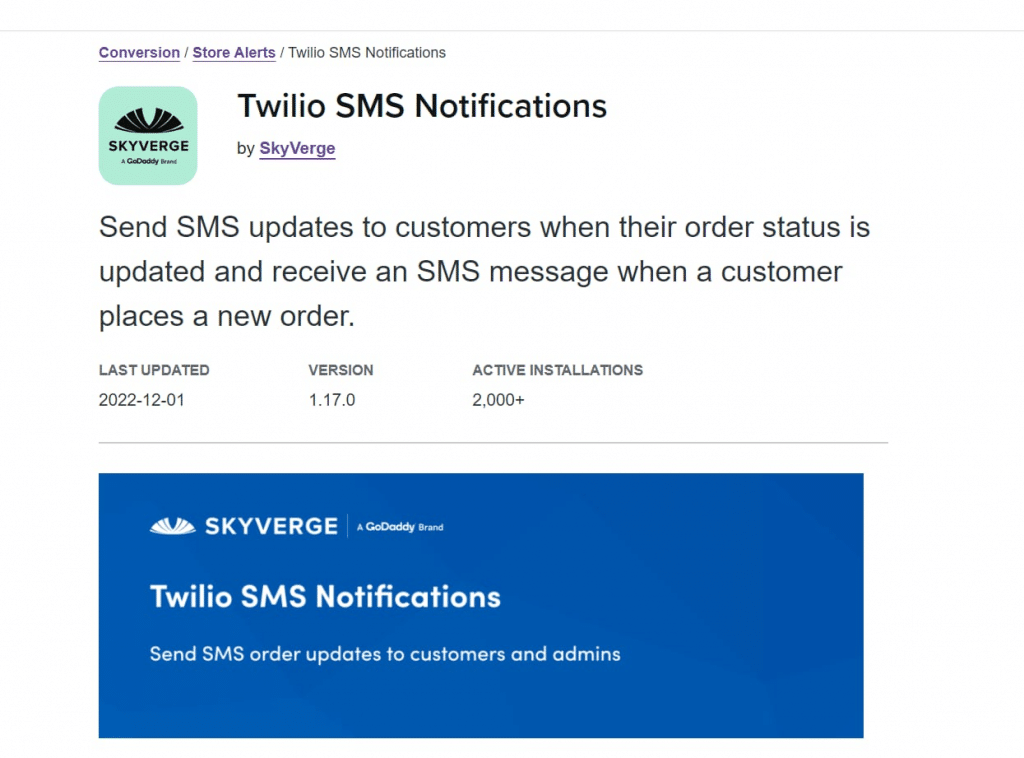 Twilio SMS Notifications – automate your SMS alerts, order updates, and promotional notifications
Features include:
Trigger automated SMS notifications based on statuses – either WooCommerce's default statuses or custom ones – though these must be made in a separate plugin.
Craft personalized messages with eight WooCommerce data fields.
Manage messages and track SMS campaigns via a central dashboard.
Twilio SMS Notifications is available at $49/year with an additional fee for Twilio-powered SMS messages. It's worth noting that Twilio SMS Notifications is less versatile than Flow Notify – particularly as it only allows users to create custom order statuses with an additional plugin, WooCommerce Order Status Manager, which will set you back another $49/year. Twilio SMS Notifications also lacks support for email and WhatsApp notifications.
BulkGate SMS Plugin for WooCommerce
BulkGate SMS Plugin for WooCommerce is a versatile and reliable option for any eCommerce store looking to improve customer engagement.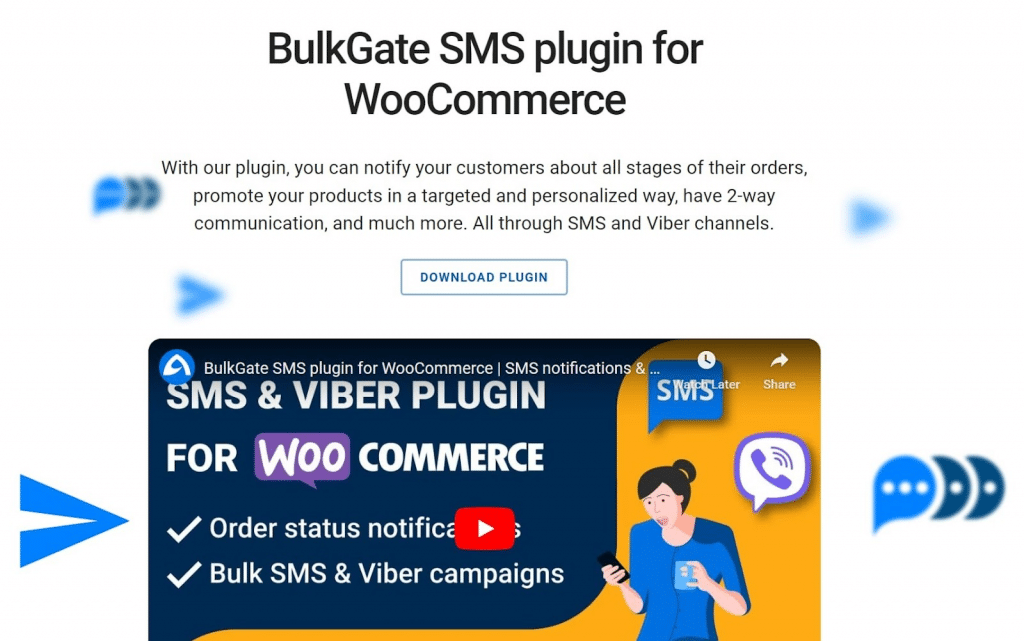 BulkGate SMS Plugin for WooCommerce – send bulk campaigns via SMS and Viber
Add support for 2-way messaging to your WooCommerce store thanks to compatibility with Viber and SMS integration.
Access messaging history and reports directly from the WooCommerce dashboard.
Use bulk SMS and Viber campaigns.
Craft personalized messages that resonate with your customers using built-in templates.
Contact in over 200 countries and regions.
You won't need to worry about up-front costs with BulkGate, though users must pay for all SMS or Viber messages. Additionally, Viber has a minimum monthly spending threshold of roughly $100/month in the U.S. (though this varies by country), which can make the WooCommerce plugin an unsuitable solution for an online store that doesn't need to send a high volume of messages.
To see a full breakdown of the best WooCommerce SMS plugins, we recommend visiting our guide on the 5 Best WooCommerce SMS Notification Plugins for WordPress in 2023. And if you're a store owner looking to set up and customize notifications, check out our guide on How to Configure Advanced Notifications in WooCommerce.
Top tips for sending SMS messages that drive sales
SMS marketing is an effective way to engage customers and drive sales, but it requires a thoughtful approach to ensure maximum impact. Here are some top tips to keep in mind when planning your next batch of notifications:
Don't overload your customers
Bombarding your customers with too many messages (and too frequently) is one of the biggest SMS marketing mistakes you can make. You could negatively impact customer engagement and even prompt them to unsubscribe altogether. Instead, focus on sending targeted, personalized text messages that offer real value to your customers.
Pay attention to your message scheduling
Don't go through the trouble of setting up SMS notifications on your eCommerce site just to have them go unread! Sending SMS messages at the right time is crucial to their effectiveness. Consider time zones to ensure your messages are always non-intrusive, and utilize Flow Notity's suite of features to set specific delivery windows.
Personalize your messages
Customers like to feel heard, and they typically engage more with messages tailored to their interests. Adding dynamic data such as product recommendations, promotions, or coupon codes can encourage repeat business and increase customer loyalty. Fortunately, adding personalized data to your messages using WooCommerce data fields is easy with Flow Notify!
Make it easy to subscribe (and unsubscribe) to messages
Opt-in rates are crucial to the success of your SMS marketing campaigns. Make it easy for customers to subscribe to your messages by making opt-in options visible on your product, cart, and checkout pages, and ensure you're maximizing potential conversions. You'll also need to ensure that customers can unsubscribe just as quickly. Include unsubscribe links or keyword prompts to assure customers of their agency and improve the overall user experience.
Use urgency and scarcity
Encourage customers to take action quickly by using time-sensitive offers or limited-time promotions in your notifications. Offering discounts not available anywhere else is a great way to add value to your communications and prevent customers from unsubscribing.
Boost your sales with targeted SMS messaging for WooCommerce
SMS messaging is a powerful tool that WooCommerce store owners can leverage to drive sales, improve customer engagement, and boost retention rates. It's also a uniquely personalized way of connecting with customers – and one that boasts a higher open rate than other forms of marketing communication.
You can take your pick of various types of SMS messages, too, including transactional messages, stock notifications, and SMS marketing campaigns. By customizing your messages with dynamic WooCommerce data and utilizing custom order statuses as delivery triggers, you can ramp up your messages' effectiveness.
Flow Notify lets store owners harness the power of automatic notifications by adding SMS messaging functionality to a WooCommerce store. Moreover, it's hugely versatile, offering a custom notification builder, automated and scheduled notifications, and cross-platform support.

Don't wait any longer to send tailored notifications to your WooCommerce customers. Try Flow Notify today from just $49/year with a 14-day money-back guarantee and take your SMS marketing campaigns to the next level!