If you have an eCommerce store, you probably already know that order statuses are essential to your fulfillment process. For one, they allow you to structure and manage your order list and keep your staff informed about the current state of all orders at a glance. But they are also vital for keeping your customers updated about their purchases, as they can let them know when an item they have bought is, for example, on its way.
Managing your order statuses in WooCommerce effectively is, therefore, crucial for both store efficiency and customer experience. But if your store is powered by WooCommerce, you've probably already noticed that it has some limitations – for example, you can't add new order statuses or customize order notifications right out of the box.
In this article, we will look at how you can manage your order statuses using the default WooCommerce functionality and then compare some of the best plugins for enhancing this feature and gaining complete control over the lifecycle of your product orders.
What Are WooCommerce Order Statuses?
WooCommerce statuses are an essential part of your store's order fulfillment workflow. As we mentioned, they are important for keeping both your fulfillment staff and customers updated with the progress of orders which, in turn, can ensure a good customer experience and allow you to process orders more efficiently.
A default WooCommerce installation provides the following core order statuses:
Pending payment: Order has been received, but no payment has been made yet.
Failed: Payment is declined or requires authentication.
Processing: Order has been paid and is being processed.
Completed: Order has finished processing.
On hold: Payment requires confirmation.
Canceled: Order has been canceled.
Refunded: Order cost has been refunded to the customer.

If you want to learn a little more about how each of these order statuses is used in the default WordPress WooCommerce installation, we have a dedicated guide on WooCommerce order statuses available.
How Do You Manage Order Statuses in WooCommerce?
The WooCommerce plugin comes with some basic management functionality for handling different order statuses. For example, you can change them for individual or bulk orders directly from your WooCommerce orders page and set up automatic email notifications to be sent to your store admin or customers triggered by order status changes (including completed order and new order emails).
That said, WooCommerce has some limitations when it comes to managing your order statuses and order emails. For instance, if you're using the default WooCommerce functionality, you won't be able to add new custom order statuses (you're limited to what WooCommerce offers out of the box) or send additional automated notifications besides the default emails.
In order to add and manage custom order statuses or to get more functionality out of your order statuses by configuring custom notifications, you will need a specialized WooCommerce order status manager plugin.
There are many options available that will allow you to add custom order statuses. These plugins vary when it comes to the extra functionality they can bring to your WooCommerce store, as we'll explore next.
The 5 Best WooCommerce Plugins to Manage Order Statuses
Let's take a closer look at some of the best plugin options to add and manage WooCommerce order statuses and compare them in terms of features and pricing.
Flow Notify
Flow Notify is an all-in-one solution that helps you streamline your order fulfillment workflow and send customized messages at any stage you create and choose within it.
Aside from offering more granular control over your WooCommerce order statuses, this WordPress plugin also features a powerful automatic notification functionality that enables you to keep both your customers and your order fulfillment staff up to date with any order status updates.
Flow Notify's main features, which make it stand out as one of the best WooCommerce plugins for managing order statuses, include:
Creating and Managing Custom Order Statuses: With Flow Notify, you can create, configure, and customize your own custom order statuses, enabling you to take greater control over your order fulfillment workflow. For example, you can come up with entirely new statuses, assign them different colors and icons to help make managing your order list more intuitive, and define the next statuses. This allows you to build your own custom workflow that works for your business's unique requirements. You can manage your custom order statuses directly from the central Flow Notify dashboard within your WordPress admin area. The plugin also supports bulk actions (for quick processing of multiple orders) and WooCommerce reporting (for greater analysis of order data).
Setting Up Automatic Notifications: Flow Notify enables you to set up automatic notifications and trigger them using changes in order status. These notifications can be sent via email and SMS (with more integrations being added all the time). Additionally, the plugin allows you to personalize your order notifications using a wide range of WooCommerce data fields, including order ID, shipping method, billing name, and many more. Flow Notify can help you configure exactly when notifications are sent during the fulfillment process, be it to customers or internally to your fulfillment staff. For example, you could create a configuration that triggers a notification for your warehouse manager the moment an order has been picked and packed and is ready to ship.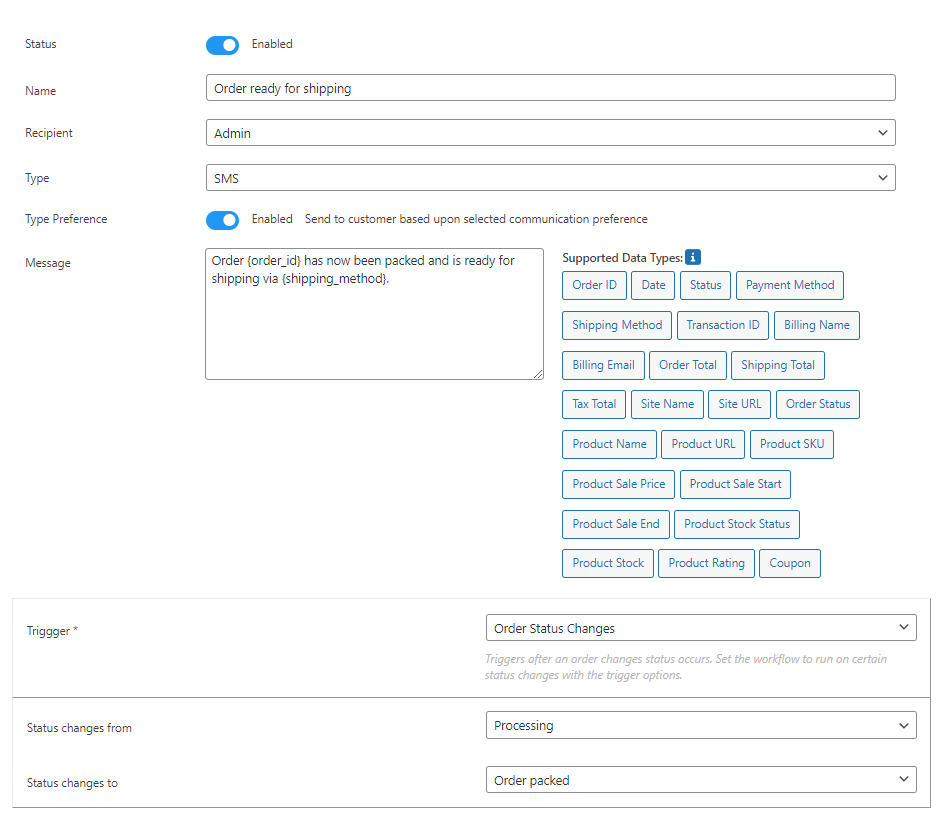 Scheduling Notifications: Flow Notify also supports scheduled and one-off notifications. These are perfect tools for sending custom emails or SMS messages to customers with promotions or coupon codes to encourage repeat business. On top of this, you can also set up on-sale, out-of-stock, and back-in-stock notifications for your WooCommerce products to keep your customers updated about when their favorite products are available or on sale.
Streamlining Your Order Fulfillment Workflow: Flow Notify gives you granular control over all your order statuses and the ability to set up automatic notifications, two functionalities that can already provide a boost to your order fulfillment efficiency. There's more, though! You can enhance the plugin's features with other WooCommerce extensions from the BizSwoop suite of plugins. For example, Flow Notify integrates with BizPrint to help you set up automatic printing of order documents at any stage of the fulfillment process. BizPrint works seamlessly with custom order statuses created by Flow Notify, so by pairing the two plugins, you ensure your picklists, packing slips, shipping labels, and other important documents are printed exactly when you need them. This, in turn, can streamline your fulfillment process and offer your customers a much better experience.
Flow Notify is available for $49/year, with a 30-day money-back guarantee. The plan includes unlimited email notifications. SMS notifications, which are powered by Twilio, are charged at a small additional cost per message.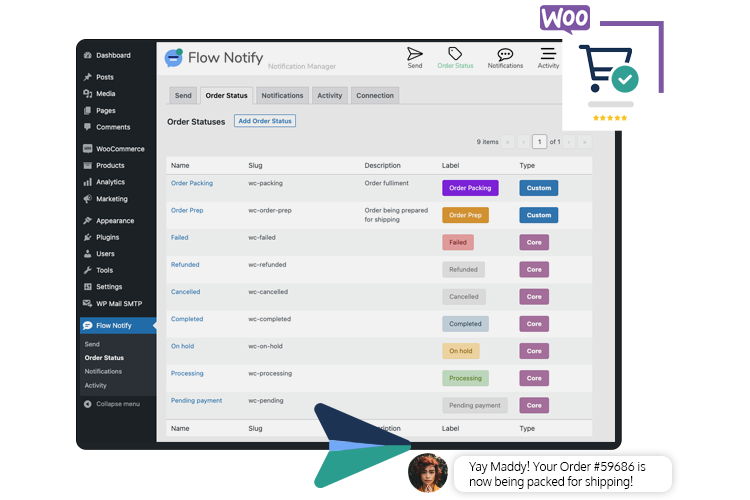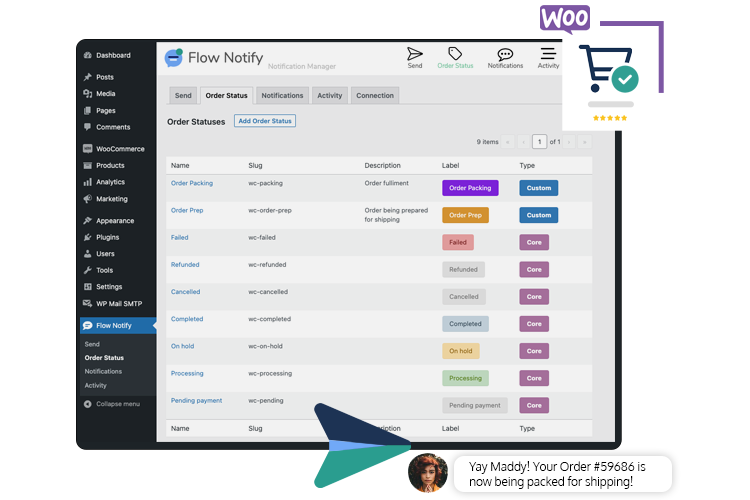 WooCommerce Order Status Manager
WooCommerce Order Status Manager from SkyVerge is a plugin that allows you to add some customization and more control to the existing WooCommerce order status management functionality. Some of this plugin's main features include:
Add new order statuses and customize them with associated icons and order action buttons.
Configure email notifications that trigger when moving from one order status to another. This can allow you to keep your customers updated throughout the order fulfillment workflow.
Customize your new notification emails through the use of editable email templates.
Add custom order statuses to the order bulk actions to quickly change the status of multiple orders at once.
Overall, the WooCommerce Order Status Manager plugin provides some improvements over the default WooCommerce order statuses and notifications. However, the tool lacks some of the more powerful customization options of solutions like Flow Notify.
WooCommerce Order Status Manager is available from $49/year.
YITH WooCommerce Custom Order Status
YITH WooCommerce Custom Order Status provides added functionality for customizing the existing WooCommerce order statuses, as well as the option to add your own new ones.
Using this plugin, you can:
Create and customize new order statuses and overwrite existing WooCommerce order statuses.
Control which actions your customers can take depending on their order status.
Set up customizable email notifications for all custom order statuses.
The YITH WooCommerce Custom Order Status plugin is fully compatible with WPML. Its functionality can also be extended further through integration with other plugins from the YITH suite. In short, this tool features powerful order status customization, but the built-in options for configuring email notifications are less advanced than Flow Notify. The solution also comes with a larger price tag of $79.99/year.
Custom Order Status for WooCommerce
The Custom Order Status for WooCommerce plugin, like the other solutions on this list, allows you to add and manage custom order statuses on your WooCommerce store. Aside from this, it offers the following benefits:
Create and send custom email notifications based on order status and personalize them using WooCommerce data fields.
Update multiple order statuses in one go from your orders page using bulk actions.
Set default order statuses for each of your available payment gateways.
Custom Order Status for WooCommerce provides the basic functionality you require to create and manage custom order statuses. The plugin also offers notably better options for customizing email notifications than some of the other tools on this list. That said, Custom Order Status for WooCommerce only supports email notifications based on order status – you cannot schedule notifications, nor send them via SMS. The plugin is available for $59/year.
Status Tracking
The Status Tracking WordPress plugin differs from the other plugins on this list in how it allows you to customize the look and function of the WooCommerce order status page. Some of this tool's key features include:
Add custom fields to the order status page, such as delivery date, product dimensions, tracking number, and more.
Assign orders to specific sales representatives at your store to enable better workflow management.
Set up notifications and alerts so customers receive emails when orders are generated or when their status changes.
Status Tracking is a powerful tool for customizing the appearance and functionality of your WooCommerce order status page. However, if you are looking for a plugin that can help you create and manage custom order statuses, this will not be the best option. Status Tracking is available from $47/year.
Improve Your Order Fulfillment with a WooCommerce Order Status Manager Plugin
Being able to manage different order statuses in WooCommerce is essential for having an efficient order fulfillment workflow. However, the popular eCommerce platform is somewhat limited when it comes to order statuses, as you cannot create new ones, nor can you customize the default statuses with WooCommerce's base functionality.
If you want to go above this default functionality, you will need a specialized tool that not only supports more personalization of order statuses but can also create notifications for all steps in the order fulfillment process.
While all of the solutions we have mentioned on this list allow you to extend WooCommerce's ability to manage order statuses, Flow Notify offers the widest range of features to ensure you get the most out of your WooCommerce order statuses. With this powerful plugin, you can:
Set up automatic notifications via email, text, and more, triggered by default or custom order statuses.
Send one-off notifications, promotions, and more to customers using scheduled or automatic messages, and set up on-sale and back-in-stock notifications for your WooCommerce products.
Create and manage unlimited order statuses and take granular control over your order fulfillment workflow using next actions.
Integrate with BizPrint to automatically print order fulfillment documents based on custom order statuses, further streamlining your order fulfillment process.
Flow Notify is available to handle all notifications on your WooCommerce store for
only $49/yr
. Email notifications are free and unlimited, and you can send SMS alerts through Twilio integration for a nominal per-text fee based on your country, for instance, $0.05 in the U.S. There's no risk to getting started – if for some reason you don't like Flow Notify, get your money back with our 30 day guarantee.